Sedona Helicopter Tours: Experience the Most Amazing Sky Adventures
If you're looking for a stunning fall activity this year, consider taking Sedona Helicopter Tours. These tours offer a front-row seat to the stunning transformation of Sedona in the fall. It's a chance to witness the landscape's breathtaking beauty from a perspective few get to experience. As the crisp, cool breeze of autumn descends upon us, there's no better time to embark on an adventure and witness the season's natural beauty.
If you're a traveler seeking excitement and a tranquil escape, look no further than Sedona, Arizona. Sedona's red rocks are famous for taking on a new life, adorned in vibrant shades of red, orange, and gold. The canyons and forests come alive with the warm hues of autumn.
When it comes to things to do in Sedona, experiencing its iconic landmarks, including Cathedral Rock, Bell Rock, and Grand Canyon tours from the air is a must. Sedona helicopter tours offer an unmatched aerial perspective that fully allows you to appreciate these natural wonders' grandeur and intricacy. The sweeping views, rugged terrain, and the sheer vastness of the landscape create a sense of wonder that's hard to put into words.
While in Sedona, enhance your autumn getaway by staying at our exquisite Sedona Bed and Breakfast. Nestled in the heart of Sedona's red rock country, our Sedona Bed and Breakfast offers luxurious accommodations that perfectly complement your adventure. With breathtaking views, comfortable rooms, and top-notch amenities, it's the ideal retreat after your Sedona Helicopter Tours. Book a room at our Sedona Bed and Breakfast and make your stay in this picturesque desert oasis truly unforgettable.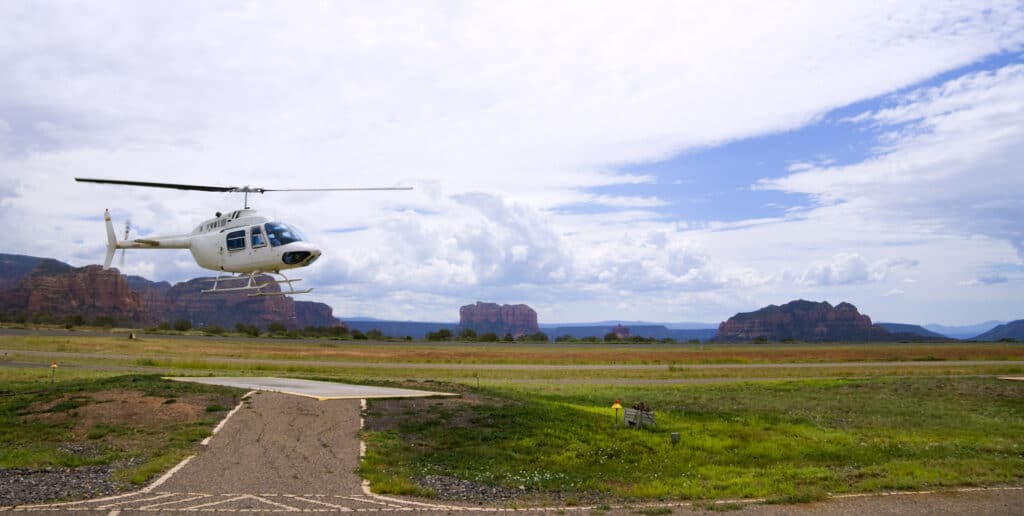 Sedona Helicopter Tours: Aerial Adventures Begin
For travelers looking to experience the natural wonders of Sedona in both the fall and winter of 2023, Sedona Helicopter Tours offer an exceptional way to witness the seasonal transformations of this enchanting destination. With the red rocks as your backdrop, these Sedona helicopter tours promise an unforgettable journey.
Sedona Helicopter Tours cater to various preferences, with multiple packages available to customize your journey. Whether you're seeking a quick and thrilling ride to take in the seasonal splendors or a more comprehensive tour that explores the depths of Sedona's red rocks, there's something here for you.
Embarking on these tours is not just about capturing stunning visuals; it's about lasting memories. Whether you're traveling solo, with friends, family, or a loved one, these Sedona helicopter tours offer a truly memorable experience. These tours are also an excellent way to commemorate a romantic or otherwise special occasion like birthdays or anniversaries.
Here are the top five helicopter tour companies that operate in Sedona: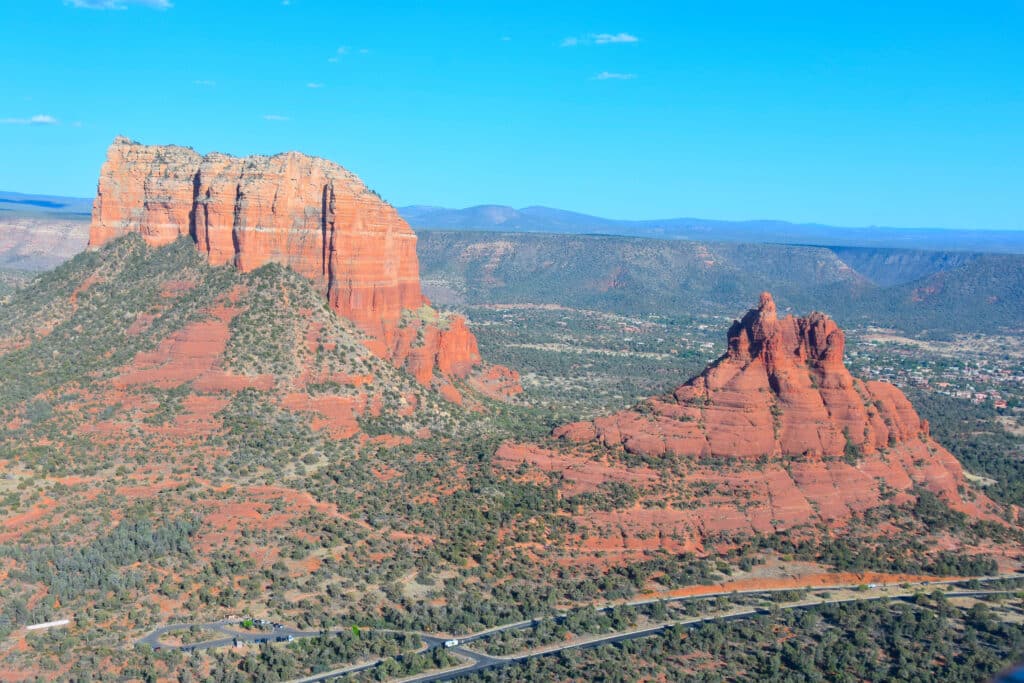 Take a Hot Air Balloon Ride in Sedona
Aside from taking Sedona helicopter tours while visiting our Sedona Bed and Breakfast, one other captivating experience should undoubtedly be on your list: a hot air balloon ride in Sedona.
For adventure seekers looking for grand adventures above the red rocks, there's nothing more magical than a hot air balloon ride in Sedona. Like the helicopter tours, these balloon rides offer a unique perspective on the region's stunning natural beauty. Soar high above iconic red rock formations, deep canyons, and desert landscapes for an unforgettable visual feast.
There are five leading companies offering hot air balloon rides in Sedona:
After you've taken a romantic hot air balloon ride in Sedona, step into a world of comfort and beauty at our Sedona Bed and Breakfast. As our guest, you'll enjoy our mouthwatering 3-course breakfast, delightful afternoon happy hours, and spacious, well-appointed guest rooms that provide breathtaking views of the iconic Red Rocks.
Your stay at our Sedona Bed and Breakfast is not just an ordinary experience; it's a gateway to relaxation and the perfect base for exploration. Book a room today.
---