Fall is Perfect for Hot Air Ballooning in Sedona
Fall is considered by many to be the best time to visit Sedona, so if you plan to join us for some fun this fall and are looking for an unforgettable adventure, consider scheduling a hot air balloon ride in Sedona. A hot air balloon ride in Sedona is a spectacular way to take in the jaw-dropping red rock landscape of scenic northern Arizona – this time from an entirely new perspective.
Most people spend their fall hiking around the red rocks – including popular spots like Devils Bridge, the Brins Mesa Trail, and the West Fork Oak Creek Trail – and it's easy to see why. Fall hiking in Sedona is gorgeous, and the weather is mild enough and the crowds few enough to make it far more enjoyable than at other times. As beautiful as fall hikes in Sedona are, though, it comes nowhere close to matching the spectacle of a hot air balloon ride in Sedona.
Out of the many ways to experience the Arizona desert, a hot air balloon ride in Sedona is perhaps the most tranquil, and it's always unique no matter how many times you've done it before. While planning your fall adventures, include a stay at our stunning Sedona Bed and Breakfast.
Travelers worldwide have come to experience our award-winning bed and breakfast, and they continue to rave about our comfortable accommodations, welcoming hospitality, and incredible desert views. If you want the perfect oasis to help you unwind, relax, and rejuvenate this fall, book your stay at our Sedona Bed and Breakfast today!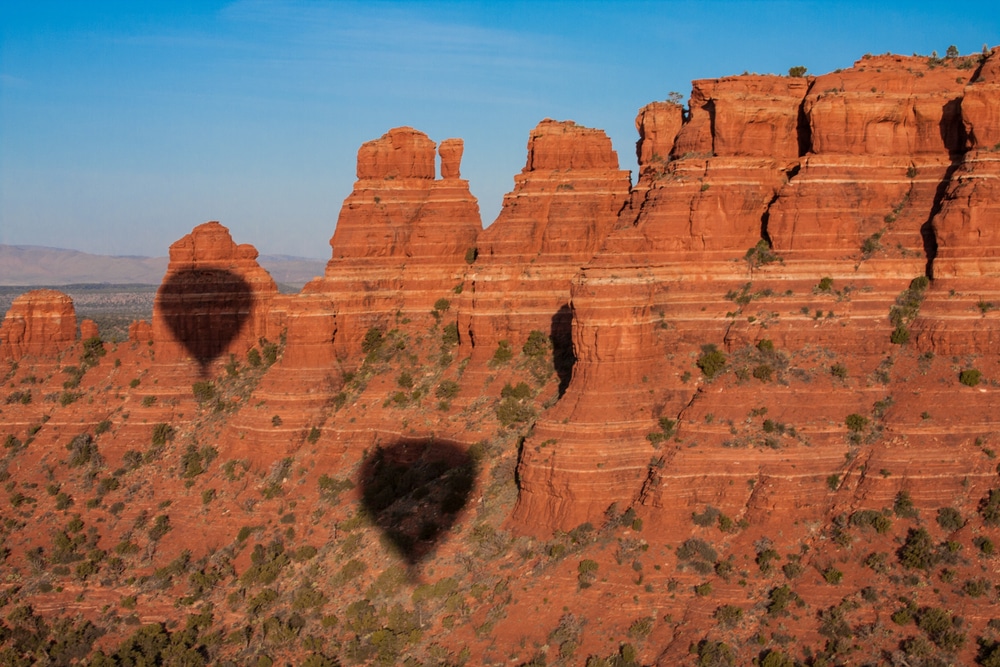 Take an Unforgettable Hot Air Balloon Ride in Sedona
If you've never had the pleasure of taking a hot air balloon ride in Sedona, this fall offers the perfect opportunity. No matter the destination, hot air ballooning is a remarkable way of seeing the world from above, away from the crowds and busy noise below. Add to the experience the already beautiful red rock landscapes of Sedona, and you have the recipe for an unforgettable fall adventure.
Two companies have been permitted to offer a hot air balloon ride in Sedona's Coconino National Forest; Red Rock Balloon Adventures and Northern Light Balloon Expeditions. Both companies have an excellent record for safety and are led by professional crews that will ensure you have a great time during your hot air balloon ride in Sedona.
Northern Light Balloon Expeditions is the oldest and largest company, and they have been taking guests on trips over Sedona since 1973. Their hot air balloon ride in Sedona is an intimate experience, as they can accommodate groups of between two and 45. They offer a 14-passenger balloon, perfect if you're traveling with friends or family.
Red Rock Balloon Adventures considers their hot air balloon ride in Sedona an "aerial nature walk." As you glide over impressive rock formations below, they'll help you spot wildlife and explain some of the desert landscapes for a truly unique experience.
Like most hot air balloon rides, you'll be arriving at your location before sunrise, which gives you the opportunity to watch the balloons inflate in the gorgeous pre-dawn light – a fantastic experience. You'll begin your flight at sunrise, an experience beyond compare. Marvel (and take photos) as the stunning red rock landscapes become illuminated in the gentle glow of the morning sun and enjoy the tranquility and silence of your flight.
It's truly one of the most memorable things to do in Sedona. When you're flight is over, the tranquil ambiance of our Sedona Bed and Breakfast will be waiting for you.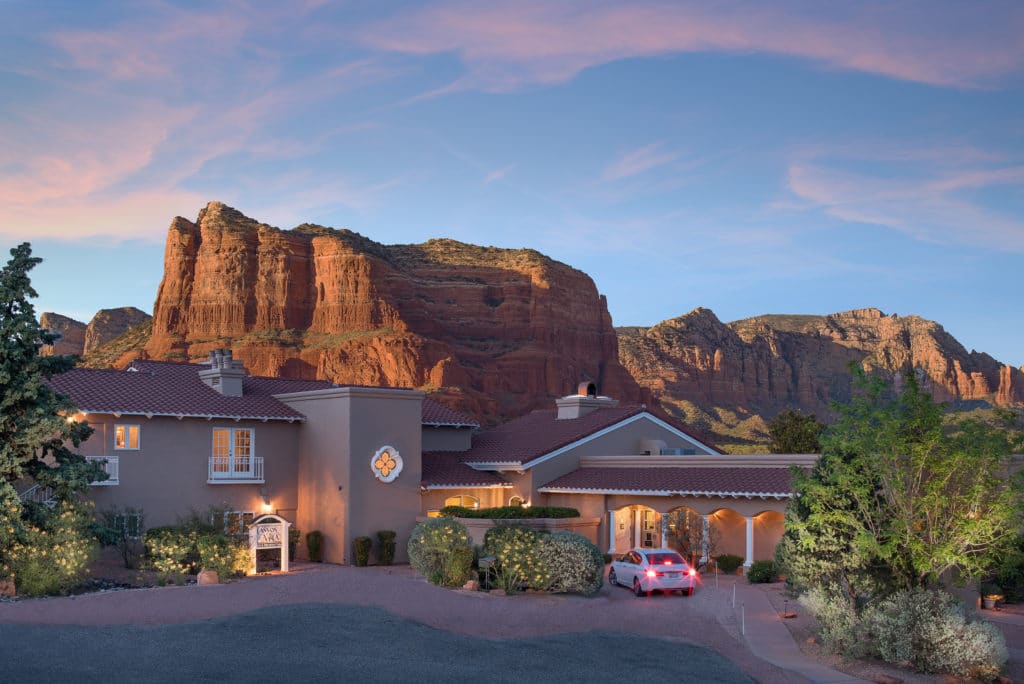 The Best Sedona Bed and Breakfast
You'll be up early for your hot air balloon ride in Sedona, so return to our stunning Sedona bed and breakfast and relax in comfort when the ride is done. We offer a range of guest rooms, each offering gorgeous desert views and outfitted with a broad range of high-end amenities.
There are hiking trails that can be accessed nearby to our Inn, and some of the best restaurants in Sedona are nearby. Each morning of your stay, we'll treat you to a delicious 3-course breakfast, the perfect fuel for a day of adventure in the desert this fall! If this sounds like your ideal fall escape, it's time to book your getaway at our Sedona Bed and Breakfast today!
---