10 Things To Do in Sedona this Fall
The list of things to do in Sedona is an extensive array of everything from hiking to shopping to wine tasting. The fall is a particularly lovely time to be in this part of Arizona as the temperatures dip and the colors of autumn begin to arrive. Set amongst the red rock landscape the leaves of the cottonwoods, sage, junipers, and pines pop in the golden light of fall.
This time of year is also a great time for a stay at Canyon Villa. After a busy summer wouldn't it be nice to relax in luxury at our Sedona Inn. Our quiet desert sanctuary is the ultimate place to rejuvenate this fall. You don't have to go far to see gorgeous autumn scenery as our bed and breakfast is set near Bell Rock and Courthouse Butte in the heart of Red Rock Country. If you want the perfect Arizona getaway to reset and recoup this fall book your stay today!
Things to do in Sedona this Fall
You'll discover breathtaking beauty when you visit Sedona in the fall. Whether you find yourself wandering among the famous red rocks on a hike, enjoy a gourmet meal, or simply take in the views Sedona in autumn is sure to not disappoint! There are countless things to do in Sedona any time of year but add cooler temperatures and beautiful changing colors and light to that list and Sedona becomes a must-see destination.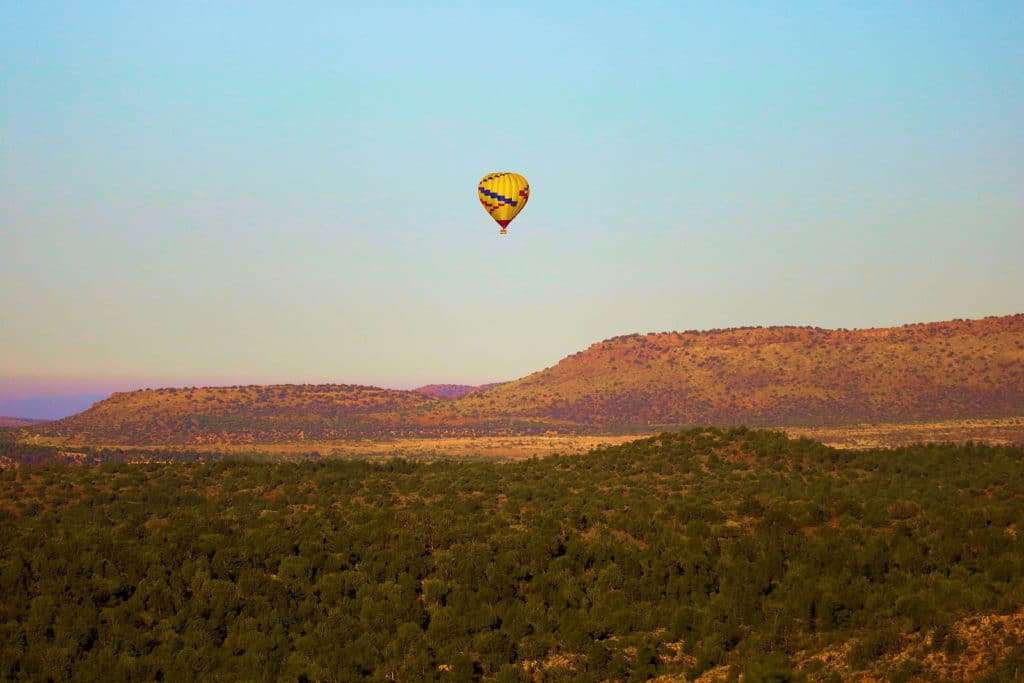 Here is our list of 10 things to do in Sedona this fall.
Going on a scenic drive is the ideal way to enjoy the desert in the fall. Take Highway 89A North towards Flagstaff to get to Oak Creek Canyon. Driving up the switchbacks here are perfect for viewing and photographing the canyon walls and plateau of the Coconino National Forest. Late September thru mid-October is the best time to see leaves change.
This wouldn't be a list of things to do in Sedona without some sort of guided outdoor adventure! The iconic Pink Jeep Tours have been taking visitors around the red rocks since 1960. These off-road tours with experienced local guides take you to Broken Arrow, Ancient ruins, and Diamondback Gulchamong many other popular trips. Southwest Outside Adventures offers more personalized outdoor education and adventures that highlight geology, as well as the natural and cultural history of the area. You can choose a half or full-day excursion that ranges in going on short walks, seeing sinkholes and red spires, to an exploration of a red rock canyon.
You won't be at a loss when searching for great dining options this fall in Sedona! You'll find an eclectic array of options from fine dining to quality fast food establishments. Eating out and supporting Sedona restaurants is one of the best things to do in Sedona this fall. Try Mariposa Latin Inspired Grill for South American cuisine from atop a scenic bluff. The Pumphouse Station is an "urban eatery" that serves breakfast, lunch, dinner, weekend brunch, and a full bar. Order online and make it a picnic! If burgers are what your craving Dellepiane is the place. This Argentine bar famous for its burgers also serves traditional empanadas.
Cooler weather brings great hiking in Sedona in the fall. Getting out and seeing this amazing landscape up close is one of the best things to do in Sedona this fall. Enjoy popular hikes like the picturesque Devil's Bridge Trail and Cathedral Rock. To enjoy fall colors the West Fork of Oak Creek features cascading water and stands of Maple trees along canyon walls. A hike through red rock country in the fall will surely be a highlight of your trip!
The Verde Valley Wine Trail is a surprising and delightful way to spend a Sedona autumn day. Stop by the many wineries and tasting rooms along the way while getting out and seeing this unique part of Arizona.
The Tlaquepaque Arts and Crafts Village has been a landmark in Sedona for almost a half-century! This Mexican style village began as an artist community and now is a world-class destination for handmade crafts, art, jewelry, and weaving and textiles. A must-see of things to do in Sedona.
Slide Rock State Park was originally a family homestead with orchards. Apple trees on the property still survive to this day. The Slide Rock area of Oak Creek Canyon is a popular recreation site offering short trails near and around Oak Creek. Their apple harvest is celebrated in the fall with the Slide Rock Apple Festival where you can pick your own apples.
See Sedona from the air this fall with a balloon ride! You'll quietly soar over Red Rock Country on a sunrise trip. A traditional champagne toast follows your flight once you return to the launch site. These incredibly scenic and memorable trips are offered by companies like Northern Light Balloon Expeditions and Red Rock Balloon Adventures.
After a busy summer, you'll need a place to find some peace and reset. The Amitabha Stupa and Peace Park provides a short trek up to this unique and special location. Come here for prayer, meditation, and the experience of being in a sacred place.
Exploring ancient ruins this fall is one of the more interesting things to do in Sedona. From seeing the largest prehistoric pueblos in the Verde Valley to standing next to an 800-year-old 20 room cliff dwelling, these awe-inspiring structures will surely make an impact. Visit places like Palatki Heritage Site, Honanki Heritage site, and Montezuma's Castle National Monument.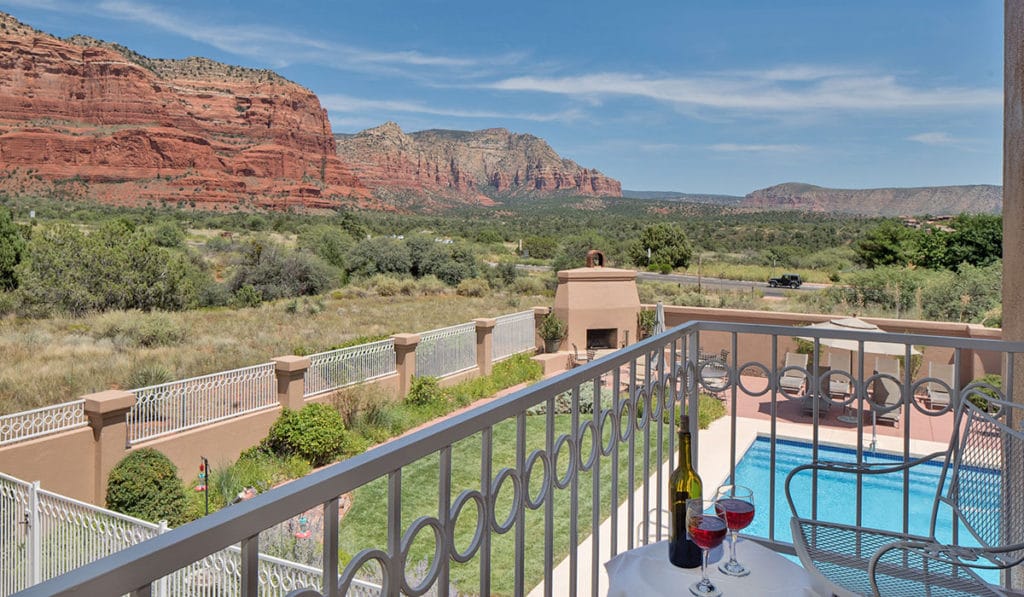 The Ultimate Sedona Getaway
With so many things to see and do in Sedona this fall, you'll need a luxurious and comfortable place to relax and unwind at the end of a day of exploration and adventure. At Canyon Villa, we are here to welcome you to our beautiful bed and breakfast located in the heart of the red rocks. As a guest, you'll enjoy a 3-course breakfast and afternoon appetizers. Our elegant guest rooms offer spectacular views of the desert landscape that makes this place famous. If you want the perfect desert retreat this fall, book your room today!
---