We have earned Select Safe, Stay Select status, an industry-leading set of health and safety guidelines based on recommendations by the Centers for Disease Control (CDC) and other industry leaders. View More Details on SelectRegistry.com
*Despite enhanced safety practices, an inherent risk of exposure to COVID-19 exists in any public space where people gather.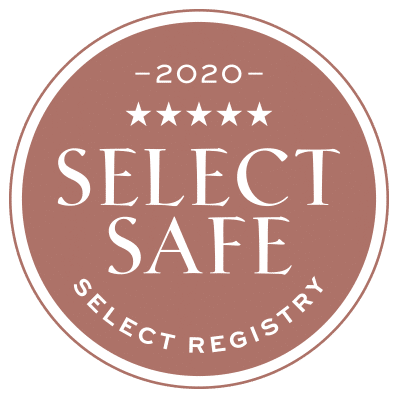 3 Course Breakfast
Afternoon Appetizers
Evening Tea & Dessert
Free WiFi
Full-Service Concierge Service
Ceiling Fan
Air Conditioning & Heat
On-Site Free Parking
Privacy Blinds
Outdoor Seating
Deluxe Linens
Sealy Glennan Plush
Mattress
Hairdryer
Custom Toiletries
Lighted Vanity Mirror
Iron & Ironing board
Luxurious Lounging Robes
Pool Robes & Pool Towels
2 Luggage Racks
Please note a $25 cleaning fee applies for all one night stays.