The Absolute Best Things to do in Sedona This Fall
While we're still in the peak of summer, we're dreaming of the autumn days with cooler weather and the changing of the leaves. There are so many fantastic things to do in Sedona year-round, but fall is one of the most magical times to visit. There are numerous unique activities to enjoy during the fall in Sedona, ranging from hiking and wellness retreats to shopping and wine tasting. This season is actually one of the ideal times to visit Sedona, as the weather is perfect for outdoor activities.
As autumn arrives, the stunning Red Rocks of Sedona become even more beautiful with the addition of vibrant fall colors. It's a breathtaking sight to see! One of the best things to do in Sedona this fall is take a scenic drive through Oak Creek Canyon on Highway 89A north towards Flagstaff. Weave through the canyon with the dramatic and colorful backdrop of the changing fall colors of the Coconino National Forest. The drive from Phoenix to Sedona is also lovely in the fall!
If you plan to enjoy the many activities Sedona offers this fall, we invite you to stay at our highly-rated Canyon Villa Inn, the best bed and breakfast, for an exceptional getaway experience. Our location, luxurious amenities, and welcoming service bring guests back year after year to take in the awe-inspiring fall colors and unwind in our desert oasis in the shadow of the iconic Red Rocks. Check our upcoming availability and book your room today!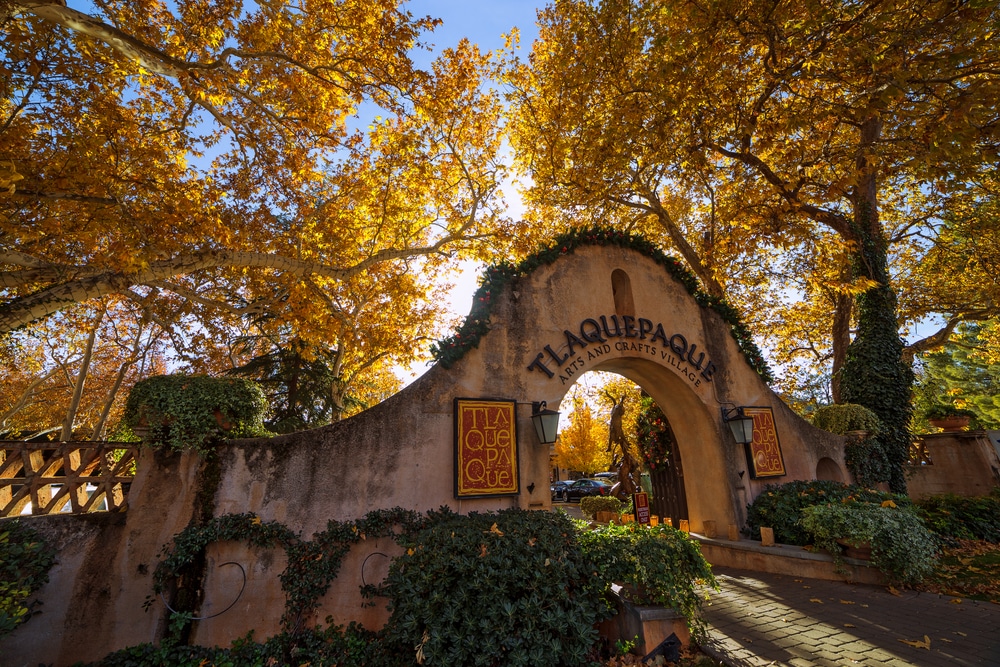 Fill Up Your Itinerary: The Best Things to Do in Sedona this Fall
Fall is arguably one of the best times of year to visit Sedona. With mild weather, fewer crowds, and sensational beauty everywhere you turn, it's easy to see why, too. As a guest at our bed and breakfast in Sedona, you can rest easy knowing that when it's time to relax, you'll have a fantastic space to reset after your adventures.
Here are the top ten things to do in Sedona this fall:
The Tlaquepaque Arts and Crafts Village has been a landmark in Sedona for almost a half-century! This Mexican-style village began as an artist community and is now a world-class destination for handmade crafts, art, jewelry, weaving, and textiles. It's one of our favorite things to do in Sedona!
If you're looking for a great activity this fall, one of the best things to do in Sedona is take a scenic drive. Specifically, Highway 89A heading north toward Flagstaff is one of our favorites. Along the way, you'll experience the stunning beauty of Oak Creek Canyon and the Coconino National Forest. If you want to catch the vibrant colors of fall foliage, the best time to go is from late September to mid-October.
Slide Rock State Park is another nearby popular recreation site offering short trails near and around Oak Creek, as well as a natural waterslide into the refreshing river.
Cooler weather is great for hiking, and it's one of the most popular things to do in Sedona this fall. Enjoy rewarding hikes like the picturesque Devil's Bridge Trail and Cathedral Rock. To enjoy fall colors, the West Fork of Oak Creek features waterfalls and stands of Maple trees along canyon walls.
If a guided outdoor adventure is more your speed, sit back and book one of the iconic Pink Jeep Tours that have been taking visitors around the red rocks since 1960. Or look into the options with Southwest Outside Adventures, which offers a variety of tours in the Oak Creek area.
Eating out and enjoying the southwest flavors is one of the best things to do in Sedona this fall. A few of our favorites are Elote Cafe, The Hudson, and Mariposa Latin Inspired Grill—here's a complete list of the best Sedona restaurants to check out!
The Verde Valley Wine Trail is a delightful way to spend a fall afternoon in Sedona. Stop by this selection of nearby wineries and tasting rooms for flights, delicious snacks, and you might even encounter live music.
Hot air ballooning is one of the best things to do in Sedona in the fall. This is the most magical way to take in these incredible views! Soar above the desert with flight companies like Northern Light Balloon Expeditions and Red Rock Balloon Adventures.
Fall is a perfect time to hit our world-class golf courses. There's nothing quite like hitting the links with the Red Rocks as your backdrop.
Exploring ancient ruins this fall is one of the more exciting things to do in Sedona. Visit places like Palatki Heritage Site, Honanki Heritage Site, and Montezuma's Castle National Monument.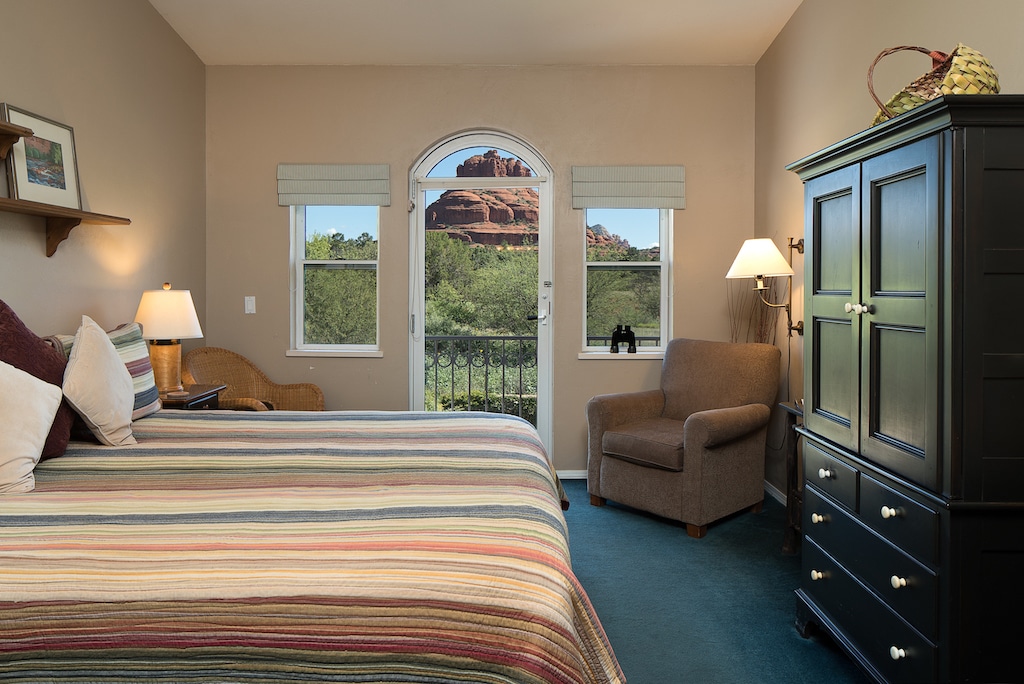 Location & Luxury at our Bed and Breakfast in Sedona, AZ
For those who might still be planning on a last-minute summer getaway from Phoenix to Sedona, you'll be happy to know that you'll experience cooler temperatures at our higher elevation. Head out early to one of the best nearby hikes or golf courses, relax midday in your air-conditioned suite or our luxurious backyard pool, and then head out to explore the best things to do in Sedona in the evenings, including a lively nightlife, world-class restaurants, and shopping opportunities.
As a guest at our bed and breakfast in Sedona, you'll quickly see why many people make our Inn a yearly destination. From our bountiful breakfast service and afternoon happy hour to our spacious shared rooms and breathtaking views of the Red Rocks—there's no shortage of reasons to make our B&B your home base. Our guest rooms are elegantly appointed with comfortable beds, pristine en suite baths, and everything you need to relax.
Join us and discover just how beautiful our high desert, Red Rock landscape is in person. As a Select Registry property, you can always expect the highest level of hospitality and welcoming accommodations. Reserve your room today!
---