Hike to Devils Bridge Sedona This Winter
Have you ever been lucky enough to make the trip to Devils Bridge Sedona? This winter might be your perfect opportunity!  If there's one thing Sedona is known for, it's hiking in the gorgeous red rocks. Not only are these red rocks magnificent to look at, but many of them are said to hold healing energies as well, the energy that is known as vortexes.
Whether you come to Sedona to relax and take advantage of the healing and wellness centers around town, or whether you come for the hiking and adventure in the red rocks themselves, there's no better place to stay than our luxury Sedona Bed and Breakfast. Not only will you enjoy stunningly beautiful views outside our windows, but you'll enjoy the finest accommodations and amenities around.  Experience the best of Sedona this winter. Book a room at our Sedona Bed and Breakfast today!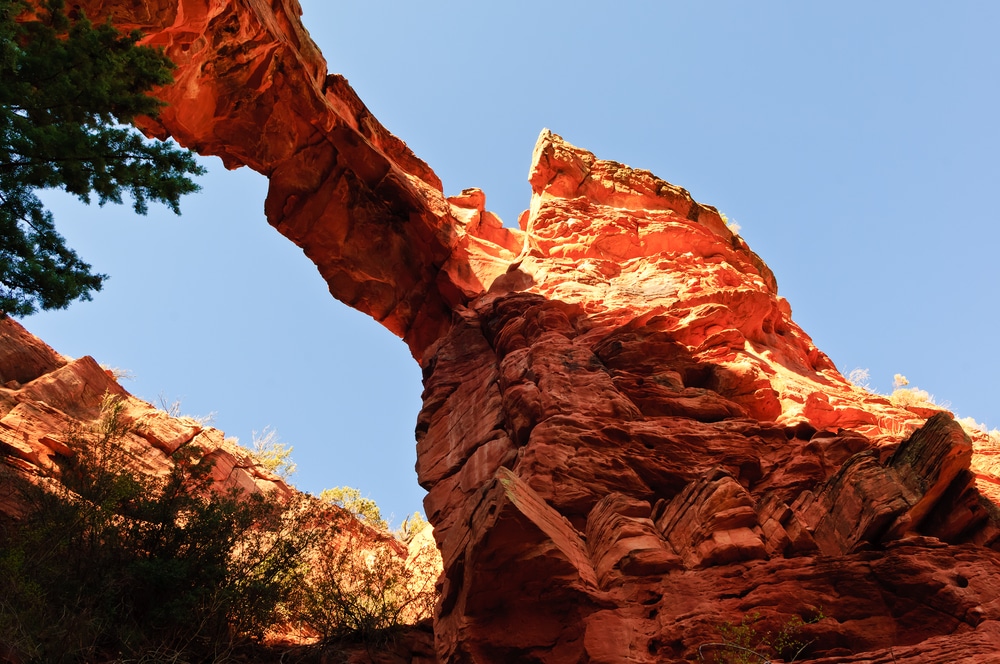 Devils Bridge is the Most Popular Hike in Sedona
Sedona is a hiking paradise. There is an endless number of trails to take in the area, many of which lead you to one exceptional view after another. Devils Bridge Sedona is one of the most popular places to hike and photograph in the area, and no trip to Sedona would be complete without at least one visit to this magnificent place.
The hike to Devils Bridge is moderate in difficulty and can be relatively crowded during peak season. The trail is approximately 4.2 miles round trip, making it a pretty quick trip, too. Devils Bridge Sedona is located in the Coconino National Forest, and it's the largest sandstone arch of its type in Sedona.
It's worth noting that the official trailhead to Devils Bridge starts just off Dry Creek Road on the unpaved portion of the road.  However, that trailhead is only accessible if you happen to be driving a high-clearance vehicle, such as a jeep.  Otherwise, you'll have to park down on the paved portion of Dry Creek Road (aka FR 152), adding approximately 1-mile to your trip. You could also access Devils Bridge Sedona via the Mescal Trailhead on Long Canyon Road if you prefer.
Once you're on the trail to Devils Bridge, you'll find that it's relatively easy. The first portion of the trail takes you through some beautiful stands of juniper and prickly pear cactus. From there, the elevation quickly starts to climb, growing steeper as you go until the final climb, which is quite steep.
The views below the bridge are undoubtedly iconic, and worth a photo or two, but the real views come once you reach the top. For that perfect Instagram-worthy photo, walk out onto the bridge itself and strike a pose! As an added perk, you can expect fewer crowds competing for those fantastic photos this winter!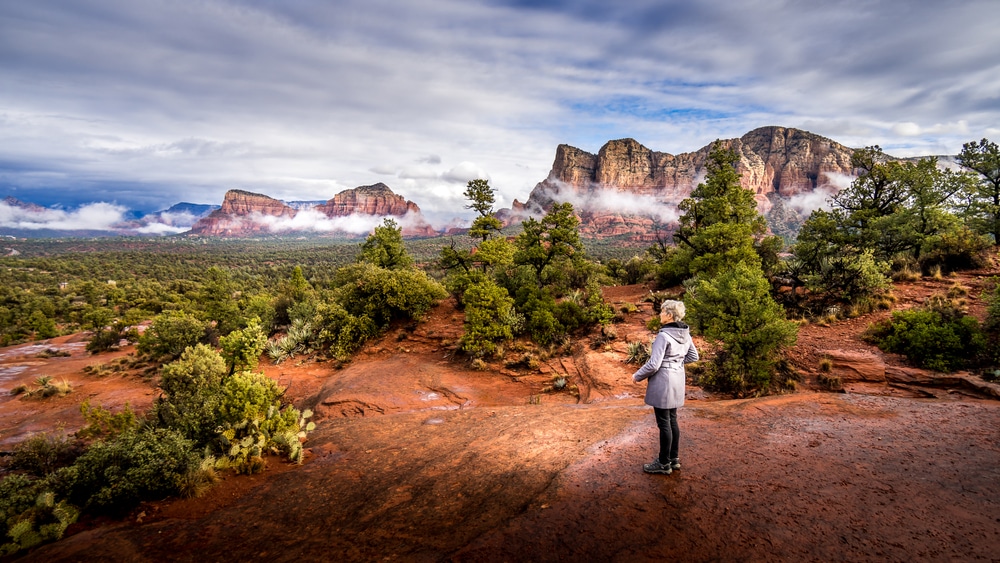 Other Noteworthy Hikes Near our Sedona Bed and Breakfast
While the iconic Devils Bridge hike in Sedona is more than worth the effort, you might be looking for more adventure during your time here.  One of our absolute favorite hikes to take any time of year is the West Fork Oak Creek Trail. The hike follows the canyon walls of Oak Creek Canyon, which is stunning throughout the seasons. Other great hikes include Bell Rock, Cathedral Rock, Boynton Canyon, and the Merry-Go-Round (Carousel) Trail.
Once you've reached the point where your legs can't carry you anymore, it's time to return to the comfortable guest rooms at our Sedona Bed and Breakfast. With exceptional views of Bell Rock and Courthouse Butte, modern and high-end amenities, and full concierge service, you'll want for nothing during your stay with us.
Hiking to the top of Devils Bridge Sedona is one of the most iconic things you'll do in Sedona, and this winter is the perfect opportunity.  Book your room at our Sedona Bed and Breakfast today!
---