Discover the Airport Mesa Vortex in Sedona this Fall
The Airport Mesa Vortex is a must-see and must-experience place when visiting Sedona! Charged with positive energy, this area is believed to help you gain a higher spiritual perspective and become more connected to oneself. Sedona Arizona is considered a sacred and powerful destination, some have described as "a cathedral without walls". A trip to Red Rock Country would not be complete without experiencing this unique phenomenon.
As you explore the Airport Mesa Vortex and other mystical vortex sites around Sedona, let our award-winning bed and breakfast inn be your luxurious place to land at the end of the day. Nestled in and amongst the red rocks at our stunning Arizona desert location, you'll have the ideal place to rest, relax and rejuvenate for more adventures! Views of the iconic Bell Rock and Courthouse Butte formations are the backdrop as you relax in your room or enjoy time outside in our courtyards and pool area. If you are ready for the ultimate Arizona vacation this fall in a casual and elegant setting, book your stay today!
Visiting the Airport Mesa Vortex
Vortices are thought to be centers of energy, places where the earth seems especially alive and are located all over the world. People are drawn to a vortex for healing, meditation, and self-exploration. The vortices of Sedona are said to be particularly powerful due to these swirling, cosmic forces that emanate from the red rocks.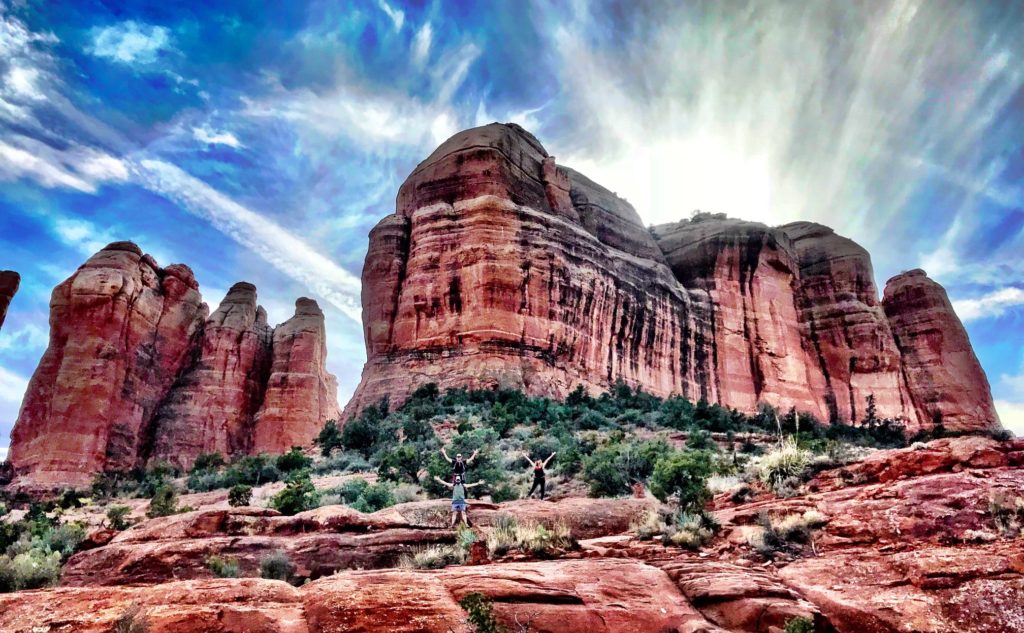 At the Airport Mesa Vortex, you'll find hikers getting out for exercise, people practicing yoga, someone may be playing the drums, or you may stumble upon some sound healing going on. This unique place is likely to become an unforgettable memory of your time in Sedona! Here are 3 amazing reasons to visit the Airport Mesa Vortex this fall!
The Airport Mesa Vortex is one of the most visited because of its proximity to town. This easy to find spot is perfect for getting in a quick hike, then heading out for another adventure! Head out first thing in the morning for a peaceful start to your day or end your day's explorations here at sunset. In just minutes you will be in the heart of the red rocks with breathtaking views all around. Because it is so close to town, the views of downtown Sedona and the surrounding area are unbeatable!
The hike at Airport Mesa Vortex is a perfect 3.3-mile loop where you can soak in the mystical energy of the place all while enjoying spectacular views of Elephant Rock, Courthouse Butte, Bell Rock, and Cathedral Rock. If you're not feeling up for the full hike there is the option to detour off of the loop hike to the saddle for just as great of views and more time to feel the serenity. The 360-degree panorama of Sedona is well worth this little adventure!
The Airport Mesa Vortex is known for being one of the best places for quiet contemplation and reflection. It is known as an upflow area that helps your spirit and energy for a higher perspective and feeling of oneness.  A perfect spot to meditate and reconnect to yourself.
More Sedona Vortexes You Must Experience
Along with the Airport Mesa Vortex, there are 3 more well-known sites where it is said that powerful energy swirls up from the earth. Before heading out to experience these special and sacred locations be sure to stop in the Red Rocks Visitor Center in Sedona where there are Rangers and experts on hand to answer any questions you may have. Here are more Sedona Vortexes to explore all while being surrounded by the jaw-dropping scenery of the red rock landscape.
The Bell Rock Vortex features a formation of a large standing bell. There are several trails here, including the Bell Rock Pathway and the Bell Rock Trail. This energy-rich location has something for everyone as there are longer trails around Bell Rock as well as shorter hikes.
Boynton Canyon Vortex is a site with balanced energy. The 1.1-mile vista trail is a short and easy hike that junctions off of the main Boynton Canyon Trail. The vortex is located at the end of this trail. Since this trail is so short you'll have plenty of time to stay, sit, and meditate while gazing upon breathtaking views.
One of the most scenic vortexes that you'll encounter is the Cathedral Rock Vortex. Halfway up there are spectacular views of Sedona and the Chapel of the Holy Cross. You have to be in pretty good shape to do the 2nd half of this hike as it presents more of a challenge.

The Best Arizona Accommodations
After a day seeking out the Airport Mesa Vortex as well as others in the area and hiking around the Sedona desert, you'll need a place to rest up and relax. Our luxurious Sedona bed and breakfast is your ideal getaway this fall! Enjoy the privacy of your well-appointed guest room with seating areas and amazing views out your window. Get a great nights sleep on your king or queen size bed fitted with cozy plush bedding.
You'll feel right at home in our spacious living room. Find a good book from our well-stocked library and curl up on a chilly autumn night. You may find yourself swapping stories from the day from other guests who have also explored Sedona. If you are ready for the best escape to Arizona's Red Rock Country this fall, book your room today!
---