Our favorite Fall Hike in Sedona is the West Fork Oak Creek Trail
Are you looking for the best fall hike in Sedona for 2021?  Look no further than the stunningly beautiful West Fork Oak Creek Trail. It's one of our favorite hikes in Sedona, and for a good reason. As you meander through this canyon, you'll get to enjoy many of the best parts about Sedona – towering red rocks, plenty of shade, the vivid colors of fall, and a beautiful creek to admire. It's sure to be a highlight of your time at our stunning Sedona Bed and Breakfast.
Speaking of our Sedona Bed and Breakfast – there is no better escape in the desert for fall getaways!  The Canyon Villa Inn is notable for its world-class panoramic views of Bell Rock and the Courthouse Butte formations, the best lodging in the Sedona area.
Not only are we are situated near many of the fantastic hiking, shopping, and dining options that Sedona is well known for, but we also offer a quiet respite away from all the crowds! We offer the very best in casual, luxurious elegance, with all the red rocks scenery you could want. Book your room today!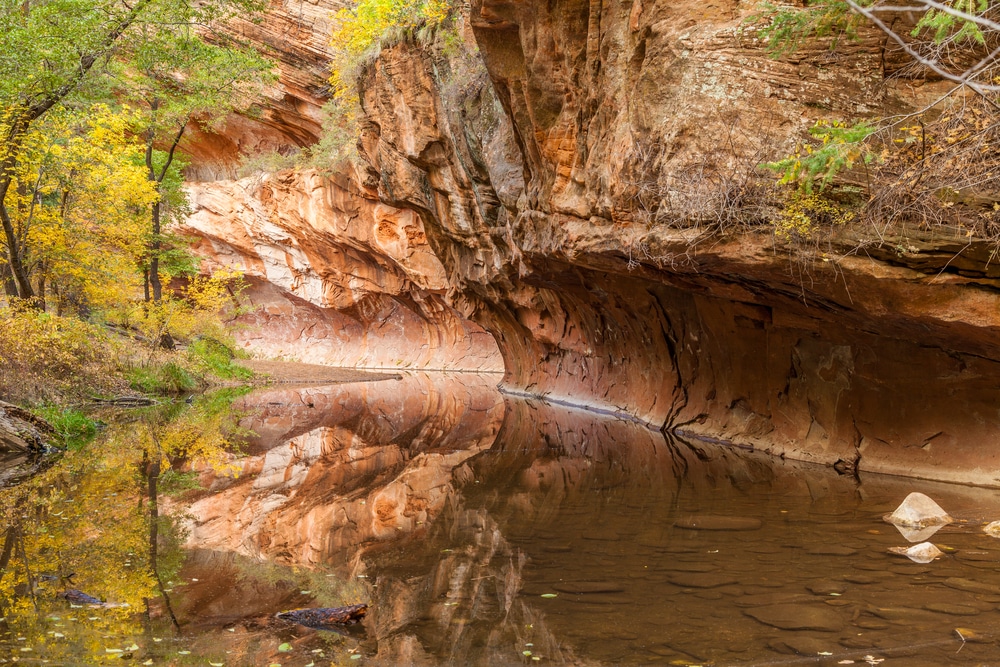 Hike the West Fork Oak Creek Trail in Sedona
If you want to enjoy the best fall hike in Sedona, the West Fork Oak Creek Trail won't disappoint. It offers a beautiful array of scenery, including towering red rocks and vibrant fall foliage. This 7-mile moderate hike includes mild elevation changes and 13 creek crossings. These can sometimes be tricky, but they are well worth the effort.
The West Fork Oak Creek Trailhead is located in the Coconino National Forest, just a short 30-minute drive from our Sedona Bed and Breakfast. The trailhead to this incredible hike in Sedona is located just off Highway 89A, just minutes north of Slide Rock State Park – in case you're interested in extending your day with more terrific hikes in Sedona!
It's pretty clear how much we love the West Fork Oak Creek Trail – but to entice you to take this incredible fall hike in Sedona, here are five more things to love about this sensational trail!
The West Fork Oak Creek Trail offers excellent views within an amazing canyon hike. Oak Creek is a permanent and shallow stream that flows through a deep, forested canyon, with plenty of wildlife to spot along the way. The creek is bordered by striking exposed red rocks.
The West Fork Oak Creek Trail is a great alternative place to beat the heat. This shaded trail is perfect for a slower pace that ends up being a pleasant and relaxing experience.
 A hike along the West Fork Oak Creek Trail offers visitors a sampling of the wide variety of ecosystems and diverse landscapes of this part of Arizona. From the desert red rocks to the lush, riparian zone along the creek where there are a diversity of tree and plant species, you'll be able to experience and explore these various habitats of the Coconino National Forest along the way.
The West Fork Oak Creek Trail is the best choice for all skill levels. The trail is flat, with plenty of spots to rest and look around. In warmer weather, there are many places to take a dip in small swimming holes. Sure to be a lasting memory for years to come!
If you are in Sedona during the autumn months, you don't want to miss a hike along the West Fork Oak Creek Trail, as it is one of the best places to view the changing leaves in Arizona. Beautiful orange and yellow leaves frame the towering red rocks above and are reflected in the creek's surface during this picturesque time of year.
If you're up for extending your trip in this canyon, you can continue past the marked section of the trail into the Red Rock-Secret Mountain Wilderness. This area is easily recognized as one of nature's most magnificent masterpieces.
As beautiful as the West Fork Oak Creek Trail is in the fall, you haven't seen anything until you've seen these towering cliffs draped with winter's icicles. By spring, songbirds will be flitting to and from the canyon trees, putting on a whole new kind of show.  There's never a wrong time to take this incredible hike in Sedona.  Like we said – it's rated as one of the best for a reason!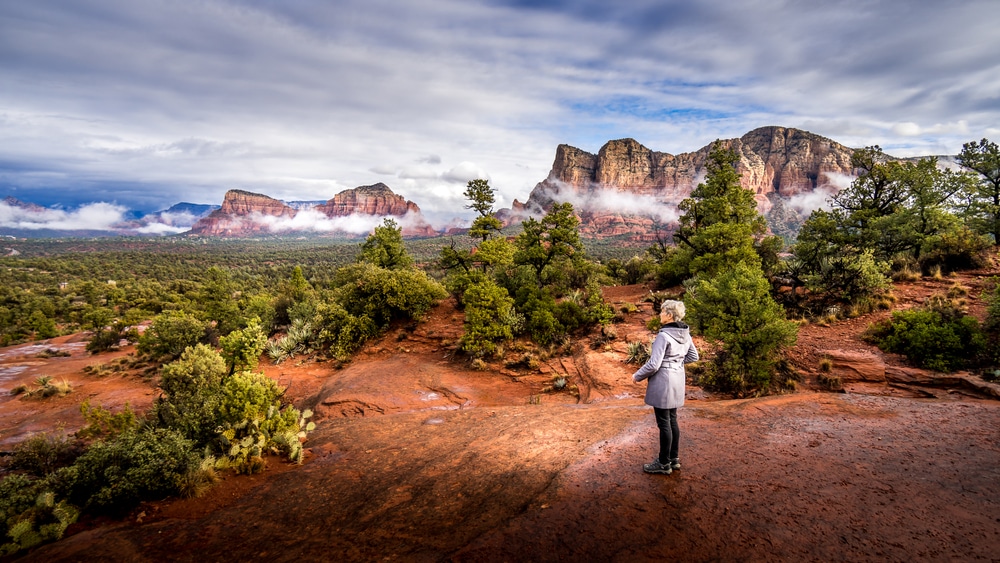 Looking For Another Fall Hike in Sedona?
If we had to choose just one hike in Sedona to take, it would be the West Fork Oak Creek Trail.  However, don't let that deter you from taking any of the other beautiful hikes in Sedona – they are virtually limitless! From short but rewarding walks to longer trails that meander above the red rock forests, you are sure to find the perfect hike in Sedona! Here are just a few more of our favorites:

The Best Sedona Bed and Breakfast
After hiking all day and exploring the West Fork Oak Creek Trail, and maybe another hike or two in Sedona, you'll need a relaxing and luxurious place to put your feet up and rest your tired muscles. Our Sedona Bed and Breakfast is exactly what you're looking for.  We're conveniently located near some of the best hikes in Sedona, including the trails to the famed Bell Rock and Courthouse Butte.
At the end of the day, when you're tired and looking forward to a bit of solitude and recovery, there's no better place to unwind than our Sedona Bed and Breakfast.  We offer a range of cozy and comfortable guest rooms, where you can rest upon a king or queen-size bed fitted with plush linens.
Whether inside or outside out, you'll enjoy the view of iconic red rock formations that tower just behind our Inn.  In this resort-like atmosphere, your stress will rapidly melt away. If you are ready for a fantastic hike in Sedona, book your room today!
---