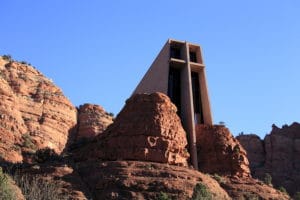 We sometimes get asked when is the best time to visit Sedona and to explore its amazing attractions like the Chapel of the Holy Cross. There's not a straight answer to that question, as we enjoy Sedona all year long. Truthfully, Sedona's weather is pretty mild year-round, and it's a wonderful 4-season destination.
We do sit at a higher elevation than many other parts of the state, and therefore we enjoy cooler average temperatures than many of Arizona's southern cities, and that is especially true during the winter.  Still, the mild weather gives you the perfect opportunity to spend your days outdoors hiking and exploring the Red Rocks (with far fewer crowds, we might add!).
We're excited to be on the brink of another winter in this exceptionally beautiful area. The red rocks will soon get their crisp, white cap of snow, and the blue-sky days will be followed by cozy, romantic evenings curled up by a fire at our Inn. Rest assured, though, that while the snowy caps on the rocks are a beautiful sight to behold, it rarely causes issues for us.  The warm Arizona sun melts it away quickly so you don't have to worry about icy roads and trails. It's still easy to get out and enjoy Sedona's best hiking trails and attractions, including the stunningly beautiful Chapel of the Holy Cross.
Come experience a small piece of Sedona this winter and enjoy our breathtaking views. Book a room at our romantic Bed and Breakfast today! Continue reading