Winter is a Great Time to Visit Chapel of the Holy Cross in Sedona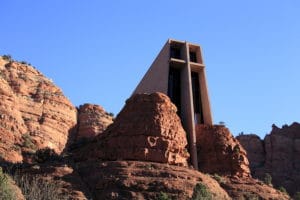 We sometimes get asked when is the best time to visit Sedona and to explore its amazing attractions like the Chapel of the Holy Cross. There's not a straight answer to that question, as we enjoy Sedona all year long. Truthfully, Sedona's weather is pretty mild year-round, and it's a wonderful 4-season destination.
We do sit at a higher elevation than many other parts of the state, and therefore we enjoy cooler average temperatures than many of Arizona's southern cities, and that is especially true during the winter.  Still, the mild weather gives you the perfect opportunity to spend your days outdoors hiking and exploring the Red Rocks (with far fewer crowds, we might add!).
We're excited to be on the brink of another winter in this exceptionally beautiful area. The red rocks will soon get their crisp, white cap of snow, and the blue-sky days will be followed by cozy, romantic evenings curled up by a fire at our Inn. Rest assured, though, that while the snowy caps on the rocks are a beautiful sight to behold, it rarely causes issues for us.  The warm Arizona sun melts it away quickly so you don't have to worry about icy roads and trails. It's still easy to get out and enjoy Sedona's best hiking trails and attractions, including the stunningly beautiful Chapel of the Holy Cross.
Come experience a small piece of Sedona this winter and enjoy our breathtaking views. Book a room at our romantic Bed and Breakfast today!
Visiting the Chapel of the Holy Cross in Sedona
The Chapel of the Holy Cross is a Sedona landmark. The Chapel of the Holy Cross is built into the red rocks, high above Sedona. It was completed in 1956 by a student of Frank Lloyd Wright named Marguerite Brunswig Staude. It is rated the top attractions in Sedona. One glance at this uniquely constructed chapel and you'll see why. National Geographic rated it as one of the 38 most awe-inspiring holy places to visit. The building itself stands at 250 feet tall, and stands atop a rock wall that is itself 1000 feet tall! The main stained-glass window is held together by a giant cross.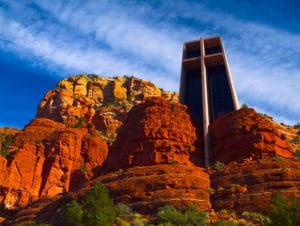 Not only is the building itself beautiful and unique in its location, but it offers incredible views of the valley below.  Sedona's Chapel of the Holy Cross is open daily from 9 am – 5 pm. Inside the chapel, visitors enjoy the sense of peace the Chapel is known for, and marvel at the extraordinary works of art. Several pieces were commissioned specifically for the chapel, including the following: God's Mercy: four silk hangings by Jacqueline Jackson; Our Lady of Mercy by Miguel Martinez; God's Mercy in His Son by James Muir; and St. Michael the Archangel, which is currently being restored.
The Chapel of the Holy Cross is approximately 10 minutes from our Inn, and makes a wonderful stop along the Red Rock Scenic Byway. Parking at the chapel can be limited, so this winter, when there are fewer crowds in Sedona overall, it is a great time to visit. Time your visit in the morning and you're likely to have a tranquil and enjoyable experience at this Sedona landmark.
Sedona's Best hospitality is at our Bed and Breakfast
Just as important as what you do in Sedona is where you stay.  You'll find the best hospitality, stunning views, and comfortable accommodations at the Canyon Villa Bed and Breakfast. How much of Sedona you see while you're here is up to you, but it all begins with your stay at the luxurious Canyon Villa Bed and Breakfast. There are few accommodations that offer hospitality in the same way as the Canyon Villa Bed and Breakfast. With impeccably framed views of Sedona's Red Rocks, the Canyon Villa Bed and Breakfast is a place like no other. Book your room at this extraordinary place today!
---