Your Guide to Red Rock State Park & More
Red Rock State Park sits in the center of Arizona, a beautiful nature preserve that remains untouched and pristine. It's the perfect place to take in these incredible rock formations that have put Sedona on the map as a favorite getaway destination. Red Rock State Park offers visitors five miles of curated and interconnected trails, weaving by Oak Creek and through high desert, manzanita groves, and scrubby juniper landscapes.
While only 286 acres, you'll see a diverse change in landscape at Red Rock State Park. These trails are considered easy to navigate and are ideal for families or novice hikers. Due to its location on Oak Creek, this is also perfect for birdwatching in Sedona. You'll likely catch sight of wild turkeys, herons, hummingbirds, quail, and roadrunners. Keep your eyes peeled for frogs, turtles, otters, and beavers in the water!
Before you start filling your itinerary with visits to Red Rock State Park and nature hikes, you'll want to secure your lodging, and our Sedona Bed and Breakfast is the best of both worlds. You'll be surrounded by the stunning Red Rock views while being pampered at our Inn with comfortable accommodations, shared spaces, a fantastic outdoor pool, and so much more. Each morning a lovely breakfast is included with your stay as well—the perfect fuel before hiking in Sedona. Check out our upcoming availability and book our room today!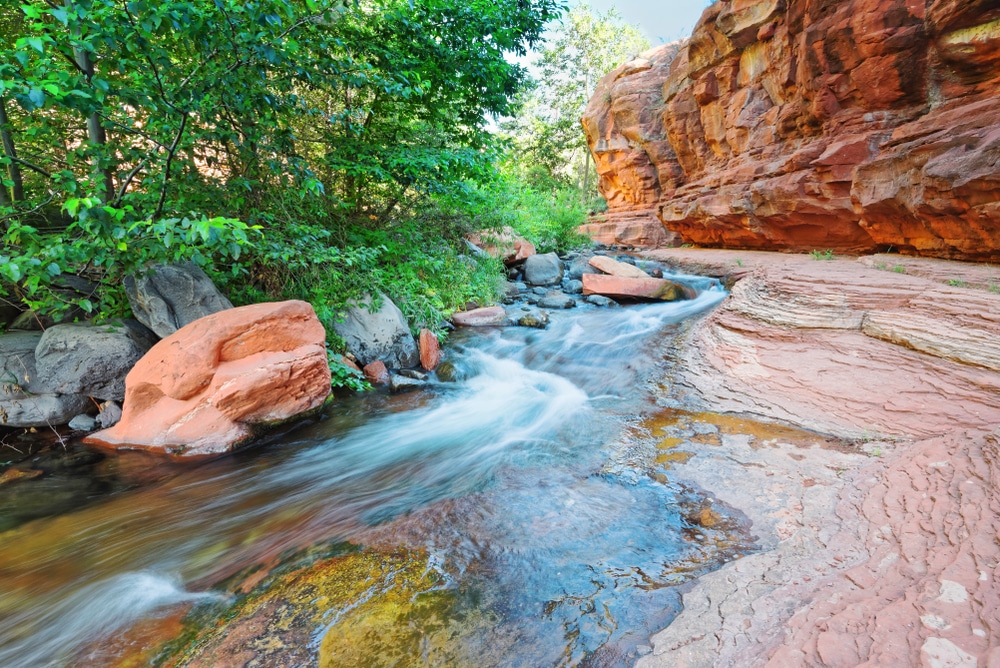 Exploring Red Rock State Park & Slide Rock State Park
Red Rock State Park is a beautiful scenic drive from our Sedona Bed and Breakfast. Plan on heading out early to beat the heat and stop in downtown Sedona for lunch on the way back. By far, the most popular thing to do at Red Rock State Park is explore the five miles of interconnected trails that take you through a mix of lush greenery and stunning high desert landscape.
The Eagle's Nest Loop and the Apache Fire Loop are joined together by the Coyote Ridge Trail, creating one of the best trails for families or beginner hikers in Sedona. These three major loops are connected along the riparian corridor by the Kisva Trail, which also leads up to the short loop of the Yavapai Ridge Trail. Stop by the visitor center desk for detailed information before starting out on the trails.
For those who have an interest in nature conservation, Red Rock State Park offers educational programs and guided nature walks. There are many educational exhibits in the visitors center where you can learn all about natural habitats, the extensive wildlife, and the early human inhabitants around the area. In addition, there's a movie theater in the park where a 45-minute movie about Sedona's history and wildlife, and the park is officially a Monarch butterfly waystation.
Don't Miss Slide Rock State Park:
Slide Rock State Park is about a half hour north of our Sedona Bed and Breakfast and is another beautiful nature stop to add to your itinerary. Visitors are drawn to this State Park only seven miles outside of Sedona for the natural water slide formation on Oak Creek. After exploring the short hiking trails and historic homestead, take a dip in the refreshing waters and the bravest, take the slide!
The Pendley Homestead Trail is only one-quarter mile, but it packs a lot in! You'll pass by some of the original apple orchards, Pendley Homestead house, tourist cabins, apple packing barn, various historic farming implements, a new orchard of semi-dwarf apple trees, and spectacular views of the canyon walls of Oak Creek Canyon. The Slide Rock Route is also short, but considered moderate to difficult, so be sure you're ready for the challenge.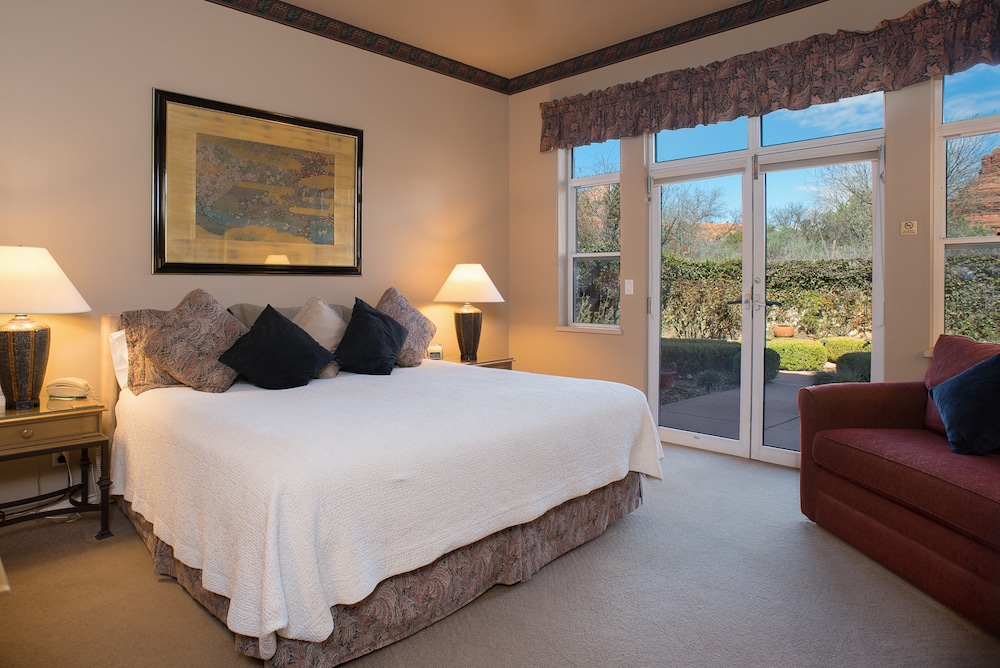 Beautiful Red Rock Views at our Sedona Bed and Breakfast
When you've exhausted your legs for the day hiking in Sedona and are ready to relax, there's no better place than the Canyon Villa Bed and Breakfast. Our Inn was designed as a place of respite, where you can take in the iconic views of Bell Rock and Courthouse Butte from the privacy of your room or relax poolside in our courtyards.
Our private and spacious guest rooms are the best place to unwind at the end of a day of adventure and discovery. Our classic and modern accommodations include luxurious bedding, sitting areas, and incredible views out your window. Our air-conditioned rooms will keep you relaxed and well-rested during your time here. Other amenities include a multi-course breakfast to fuel you up for your day, lounging robes, afternoon snacks, and so much more.
Enjoy a little slice of Sedona's paradise at the nearby Red Rock State Park and beyond; our Sedona Bed and Breakfast will await your return. If you'd like more personalized recommendations during your stay, feel free to ask our warm and welcoming staff and Innkeeper, who will do their best to make your stay incredible. Reserve your room today!
---