Hiking the Courthouse Butte Loop in Sedona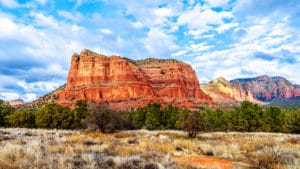 The weather here in Sedona has settled into its regular winter pattern of temperatures in the mid-high '50s. Even though this may be our coldest weather of the year, it's still perfect weather to go for a hike on the Courthouse Butte Loop, which just so happens to be adjacent to our property at the Canyon Villa Bed and Breakfast.  Sedona is one of the most scenic areas in all of Arizona, and, thankfully, that beauty is easy to enjoy on great hikes like the Courthouse Butte Loop.
In fact, Hiking in Sedona is something that can easily be enjoyed year-round. There's nothing better than spending a few hours walking through the beautiful red rock scenery and climbing your way through canyons. You'll also find a great range of trails in Sedona, from the easy meandering nature walks to more challenging trails that take you high above the ridges and offer breathtaking vistas. But first, you need to book accommodations.  You'll find there's no better lodging in Sedona that our luxury Inn.  Book a room at our Sedona Bed and Breakfast today!
Courthouse Butte Loop Hiking Trail in Sedona
When our guests ask us which hiking trail we recommend, we have no shortage of options to choose from.  However, one of our favorite trails to send people on is the Courthouse Butte Loop.  It's easy to access from our Inn, as the trail runs adjacent to our property.  The Courthouse Butte Loop Trail is a moderate 3.9-mile loop trail that takes you to two of Sedona's most prominent rock formations, Courthouse Butte and Bell Rock. Wildlife is also often seen along this trail.
You'll access the Courthouse Butte Loop hiking trail via the Bell Rock Trailhead, which is located just across the street from our Inn.  At the first fork in the trail, you'll want to continue heading North on the Bell Rock Trail. As you get closer to the base of Bell Rock in front of you, you'll encounter the Courthouse Butte Loop Trail. This hike is an excellent introduction into the red rocks of Sedona, as you can see Bell Rock, Courthouse Butte, and Cathedral Rock all in one trip, not to mention the other beautiful views afforded you as you go.
Looking for More Great Hikes in Sedona?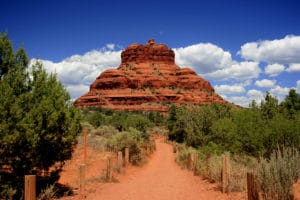 While the Courthouse Butte Loop Trail is an excellent trail to start with, there are so many more wonderful hikes to try in Sedona this winter.  Some of the other hikes we commonly send guests on include the Slimy Shady Trail, also adjacent to Canyon Villa, the West Fork Trail, Doe Mountain, Fay Canyon, and Brins Mesa.
Beyond those trails, the world of hiking trails in Sedona is your oyster. Beyond our incredible Innkeepers, a great resource to use as you sift through the best trails is Hike Sedona.
Relax in Sedona's Best Lodging
Truly experiencing Sedona like a local might is part of the pleasure of staying at a small Inn like the Canyon Villa Bed and Breakfast.  We take our job as host seriously and strive to give you the best experience possible in this magical place. That means sending you to only the best Sedona has to offer, including the least crowded hiking trails that offer the same exceptional views of Sedona you came for.
How much of Sedona you see while you're here is up to you, but it all begins with your stay at the luxurious Canyon Villa Bed and Breakfast. There are few accommodations that offer hospitality in the same way as the Canyon Villa Bed and Breakfast. With impeccably framed views of Sedona's Red Rocks, the Canyon Villa Bed and Breakfast is a place like no other. Book your room at this extraordinary place today!
---