Try These Restaurants in Sedona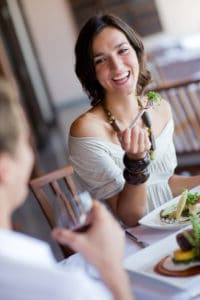 This Fall is a wonderful time to visit us at our Sedona Bed and Breakfast.  Whether you come to take scenic drives or hikes into the area's spectacular fall foliage, browse the shopping and art galleries in downtown Sedona, absorb the healing energy of Sedona's vortices, or just relax and take in the jaw-dropping scenery at our award-winning Bed and Breakfast, there's something for everyone in Sedona. When it's time to fuel up, Sedona offers some of the finest restaurants around, most of which aren't far from our Inn.  Getaway to Sedona this fall, and book a room at our luxury Bed and Breakfast.
Best Restaurants in Sedona
Sedona has deep agricultural roots in the Verde Valley.  As the culinary scene has expanded in Sedona, these agriculture roots have led to some delicious cuisine, most of which features locally-grown produce, fish from local rivers like Oak Creek, and meat from nearby ranches. With so much fresh, high-quality food available to the chefs of Sedona, it's no wonder we have some of the best restaurants around.  Here are 10 of our favorites:
Sedona is the perfect fall getaway.  Book your room at the Canyon Villa Bed and Breakfast today, so you can enjoy a slice of our paradise with us.
---