10 Best Things to do in Sedona this Spring
Ah! Spring in the desert! In particular Sedona, Arizona in Spring. A time when the possibilities of things to do in Sedona seem endless. When the average high temperature reaches the low 80s, the area is in full flower bloom, and the bright green of the new growth of plants contrasts beautifully with the deep red of the famous red rocks of this area.
March through May is the best time of year to visit the Red Rock country of Sedona and Canyon Villa Bed and Breakfast is the ideal place to stay while exploring all this area has to offer during this magical time of year. Our Inn is located in the small and quiet nearby community of Oak Creek. If you would like to escape to this springtime sanctuary, Book your room today!
10 Best Things to do in Sedona this Spring
With a plethora of unique things to do in Sedona, it's no wonder why this place is a bucket list location for many people. Springtime just opens up the door of possibilities even wider from outdoor adventuring to interesting cultural activities, all geared to highlighting what makes this part of the country so special. We've managed to narrow this list down to the 10 best things to do in Sedona this spring.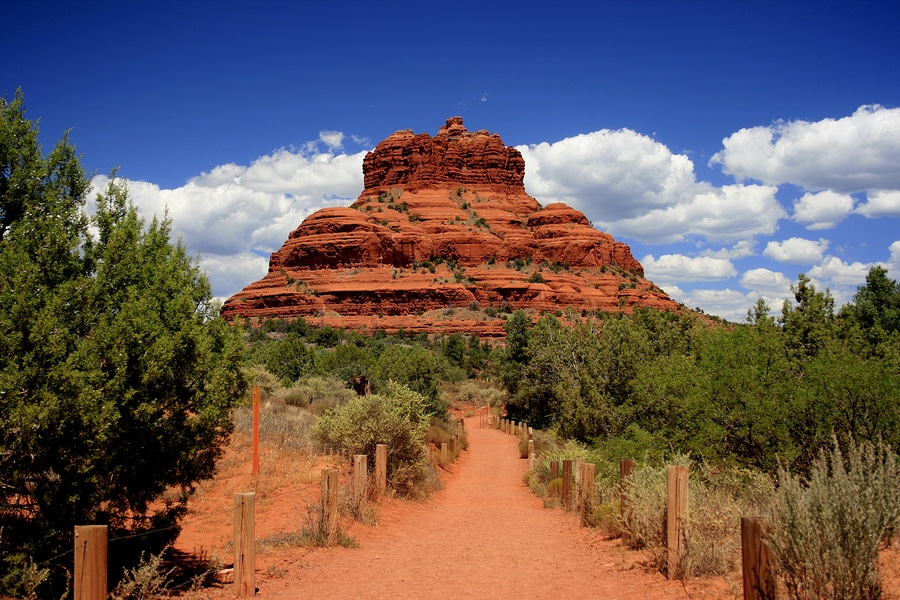 Outdoor adventures are what usually come to mind when thinking about things to do in Sedona and springtime is ideal when the temperatures are warm but not scorchingly hot. In Red Rock Country there are multiple hiking trails to get your heart rate up all while taking in world-class views. Nearby Slide Rock State Park was named one of "America's 10 best State Parks" where you can hike to a natural water slide.  The beautiful landscape here makes Sedona a hot spot for mountain biking. If you find yourself needing to cool off there are many choices from river rafting to tubing to kayaking down the Verde River.
The city of Sedona is known for the booming art scene, going back to 1931 when artists started moving to the area captivated by the surrounding beauty. Checking out the art in this community is a must on a list of things to do in Sedona. Along Gallery Row, there are 50 galleries centered on a mile-long stretch of highway 179. There are also many local museums and monthly art shows to catch. While you're at it, why not try to locate all the public artworks that dot the downtown of this dynamic city!
When was the last time you went outside on a clear night and looked up at the stars? With very little pollution, high, open altitude, and dry conditions, Sedona offers some of the best stargazing in the U.S.  Companies such as Sedona Stargazing provide tours led by experienced astronomers.
Take advantage of the good weather by browsing the shops and boutiques around town. Uptown Sedona offers shops with jewelry, gems, and minerals as well as apparel and accessories. Not to be missed is the Tlaquepaque Arts and Crafts Village. Pronounced T-la-keh-pah-keh, this distinctive shopping experience has been a landmark since the 70s. If you'd like to stay closer to our bed and breakfast, the Village of Oak Creek has many specialty shops to get that perfect little souvenir.
There is a reason why Sedona is known for Jeep tours! This is definitely one of the top things to do in Sedona. Going for a Jeep tour through Red Rock country is an exhilarating way to see the terrain off-road. There are lots of providers to choose from, but our favorite is Southwest Outside Adventures.  We've worked closely with them for years, and think they are the ultimate guide when it comes to things to do in Sedona.
Playing a round of golf with the Red Rocks as a backdrop is a stellar way to spend your time in Sedona! There are several country clubs as well as public courses that are sure to be jaw-dropping for a round of 18 holes.
Relaxing with a glass of wine is a great way to sit back and enjoy the springtime weather of Sedona. Enjoying that glass of wine at a Sedona winery would be a delightful way to do that. Believe it or not, vineyards grow quite well in Arizona's dry heat, mixed with the rich volcanic soils of the Verde Valley. There are many small-batch wineries along Oak Creek and individual tasting rooms in Sedona.
Taking in some cultural history of Sedona is a great way of furthering a connection to this one of a kind place. The Palatki and Honanki heritage sites offer a glimpse into the history of the Pueblo ancestors of the modern-day Hopi. The Sedona area is home to the largest cliff dwellings in Red Rock Country. Explore stone ruins that were built high into canyon walls between 1150 C.E. and 1350 C.E. . Visitation is limited and reservations are required.
Why not see the amazing springtime desert landscape by air? Taking a helicopter tour of the areas rock formations is available through several tour companies. Tours last anywhere from 15 to 35 minutes. If you are looking for something a little more serene, a hot air balloon ride may be what you're looking for. There are many choices for Hot air balloon tours in the Sedona area.
If you are looking to slow way down while also getting out and exploring, consider taking a horseback ride through the red rock country and the Verde Valley. There are lots of ranches and tour companies to pick from. Giddy Up!

Relax at our Bed and Breakfast after exploring Sedona
After your days of adventuring out and about experiencing the many wonderful things to do in Sedona, you'll want to relax at our luxurious Inn. Curl up with a good book in our cozy living room common area or swap stories of your day with other guests. Cool off with a dip in the pool or unwind in your private courtyard with stunning views of the red rocks. Book your room today!
---