Holidays at the Tlaquepaque Arts and Shopping Village
Known as the "Art and Soul of Sedona," the Tlaquepaque Arts and Shopping Village is a must on any visit to Red Rock country. This gathering place and cultural center has been a Sedona landmark since the 1970s; visitors and local residents flock here all year long for the exceptional collection of galleries, shops, and dining establishments.
The Tlaquepaque Arts and Shopping Village is more than just a community hub on the banks of Oak Creek; it's a beautiful mix of open-air space and historic buildings where nature and architecture blend. Stately Sycamore and Cottonwood trees provide a lovely backdrop and shade in the courtyard. Constructed initially as an artist's community, you're bound to encounter talented makers actively working on their crafts, from sculptures to paintings and everything in between.
It's not too early to start planning a getaway to Sedona this winter for shopping, adventures, and relaxing before the madness of the holiday season sets in. First, you'll want to secure your lodging, and our Sedona Bed and Breakfast, tucked in the shadow of the stunning Red Rocks, is, by far, one of the best places to stay. Not only will you have immaculate views and a cozy guest room, but you'll be privy to the most welcoming and warm hospitality in Arizona and a beautiful breakfast each morning. Book your room today!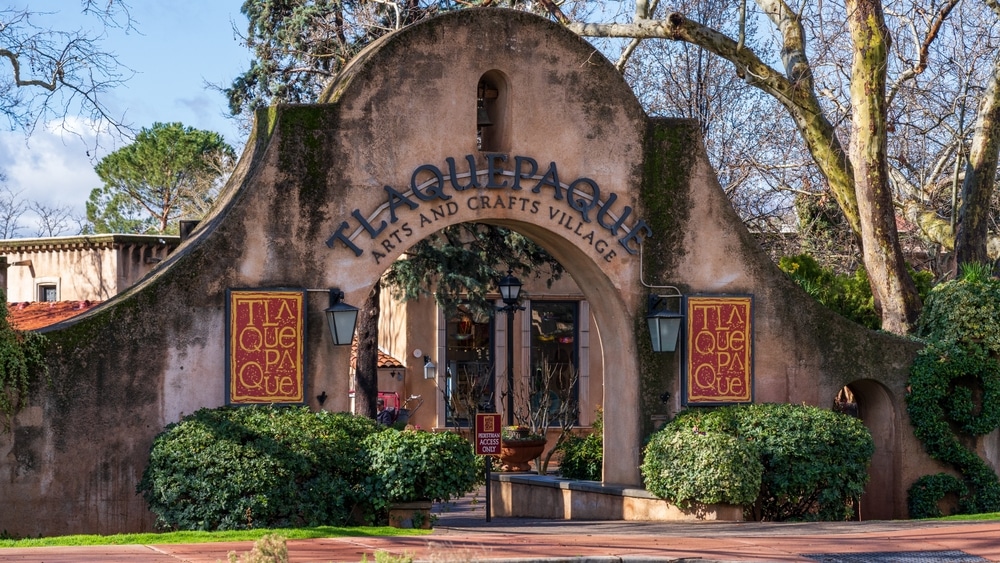 Shopping at the Tlaquepaque Arts and Shopping Village
The Tlaquepaque Arts and Shopping Village is a popular destination in downtown Sedona. It offers the perfect blend of history, art, classic architecture, modern shops, and world-class restaurants. It's a fantastic place to start finding gifts for even the most discerning people on your holiday list, and it's only a quick drive from our Sedona Bed and Breakfast!
Here's what to expect on an outing to the Tlaquepaque Arts and Shopping Village:
Art Galleries: One of the biggest draws to the Tlaquepaque Arts and Shopping Village is the collection of art galleries. You'll encounter about 14 galleries showing anything from colorful pottery, original paintings, and fine Navajo rugs to professional photography showcases and glass sculptures. Don't miss the Honshin Fine Art Gallery, which represents a variety of talented local Sedona artists.
Specialty Shops: You'll find around 20+ specialty shops selling a huge variety of wares and local goods at the Tlaquepaque Arts and Shopping Village—including Southwest kitchen items, home decor, pet products, and so much more. During the holiday season, be sure to stop by Feliz Navidad for handmade Christmas decorations from all over the world.
Jewelry & Apparel: The Southwest is known for its impressive, bright jewelry with colorful turquoise and copper elements. The Tlaquepaque Arts and Shopping Village is one of the best places to find a distinct array of showpieces and gifts. There's also a tasteful selection of wearables and women's apparel.
Sedona Restaurants & Bars: Whether you're looking for a romantic fine-dining restaurant or a casual space for a cocktail, the selection of restaurants, cafes, and bars is impressive at Tlaquepaque. One of the most notable restaurants is René Restaurant and Wine Bar for French-inspired cuisine with seasonal ingredients and creative preparations. Save room for their fancy dessert creations!
Holiday Events & Festivals: The Tlaquepaque Arts and Shopping Village is such a lovely destination during the holiday season. December brings the annual tradition of the Sedona Tree Lighting and Santa visit and the lighting of 6,000 luminaries for the "Festival of Lights." Many of these events are free to attend and include live music, festivities, and seasonal treats.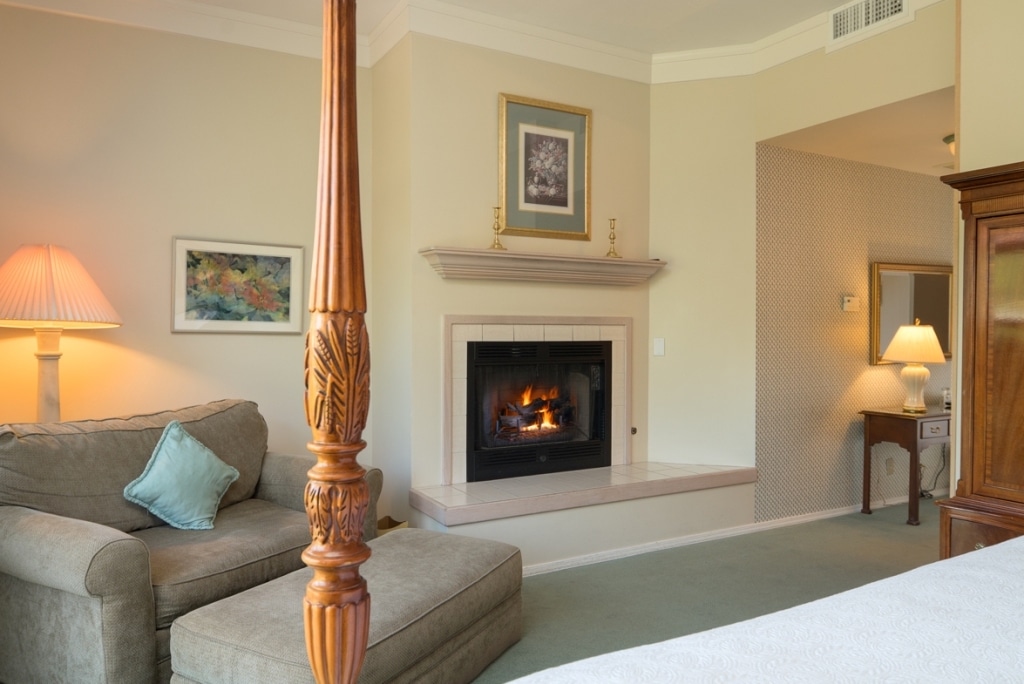 Winter Getaway at our Sedona Bed and Breakfast
Our Sedona Bed and Breakfast is just over ten minutes from the Tlaquepaque Arts and Shopping Village and all of the best things to do and restaurants in the downtown area. You'll love heading out for your holiday shopping excursion, knowing you have a cozy and comfortable guest room awaiting your return. Be sure to join us for our afternoon happy hour at 5 p.m. for snacks, wine, and homemade treats.
The Claret Cup Suite (pictured above) is a traditional room at our Sedona Bed and Breakfast, reflecting the elegance of the past. This lovely room features a four-posted, mahogany king-size bed, a comfortable seating area, an en suite bath with double sinks, a whirlpool tub, and a shower combination. Curl up by the fire with a glass of wine in a comfy chair on chilly winter evenings—the best place to relax!
Take in the stunning Red Rock views from almost every angle of our Sedona Bed and Breakfasts—the mornings are gorgeous as the sun lights up the iconic landscape. A complimentary breakfast is included with your lodging—guests rave about our classic home-baked cinnamon rolls—followed by savory dishes always paired with hot coffee, tea, or juice. We can't wait to host you; book your lodging today!
---