Find the Best Sedona Tour This Winter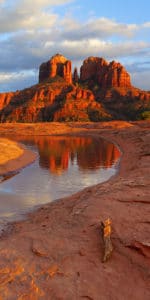 This winter is an ideal time to take a Sedona tour and explore all this incredible area has to offer. The weather is perfectly mild, often topping out in the mid-high '50s. But even more appealing are the smaller crowds in Sedona. That means not only can you dine at all of your favorite restaurants without much hassle and go wine tasting with fewer people crowding the tasting rooms, it also means there will be fewer people out on the hiking trails and competing for Sedona's most coveted views.
If you're looking for a Sedona tour company, there's one company we've worked with over our years in business that far outshines the rest, and that's Southwest Outside Adventures. Southwest Outside Adventures has been operating tours in the Sedona area since 1981 and thus has years of experience in leading hikes, expeditions, southwest tours, and providing information on natural history, geology, and Native American cultures. They are, without a doubt, the best Sedona tour company around.
Book your stay at our luxury Bed and Breakfast this winter, and come explore all of the exciting options waiting for you in Sedona!
Sedona Tours with Southwest Outside Adventures
Taking a tour is a great way to see the very best of Sedona with a knowledgable guide. When looking for the best Sedona tour for you, we urge you to consider a longtime friend of the Canyon Villa Bed and Breakfast, Southwest Outside Adventures. Not only do they offer exceptional tour options, but they also have some of the most experienced, well-trained, and knowledgable guides out of any Sedona tour company.
Southwest Outside Adventures offers 3-hour, half-day, and full-day tours around Sedona, each of which promises to fit a wide variety of interests and abilities.
3-hour and half-day Adventures
A Short Walk: A short walk to see the unique sites that cannot be accessed in a vehicle.
Sedona Sunset:  A Short hike to watch a breathtaking Sedona sunset from the heart of the Red Rocks themselves.
Slickrock Scramble: This is an easy to moderate hike off the beaten (aka dirt) path, and onto the slick rocks of Sedona.
Vortex Walk: Head to some of Sedona's most power vortex sites, and feel the magic of these lands for yourself.
Sinkholes & Spires: Sedona has two sinkholes.  You'll visit one, and take in some dramatic red spires along the way.
Canyon Sampler: See the beauty of Sedona's canyons up close and personal for yourself.
Full-day Sedona Tour Options:
Sedona Grand Adventure: This Sedona tour is perfect for those who don't have a lot of time, but still want to see the best of Sedona.  The morning will be spent hiking in the beautiful Red Rocks, followed by a picnic lunch, and another leisurely walk in Sedona.
Mountain Summit Adventure: For those who are fit and ready for an epic Sedona adventure, this is the tour option to choose from. This tour includes a challenging hike to the top of Red Rock Country, where you'll be able to enjoy a spectacular view below.
Canyon Explorer: A full day hike in one of Sedona's spectacular canyons is one of our favorite ways to experience the area.  On this tour, you'll visit red rock canyons that are off the beaten path and extraordinarily beautiful.
Swimming Hole Trek: This Sedona tour is perfect for when the weather heats up in summer. you'll spend the day hiking a wilderness canyon along a crystal clear, spring-fed stream, ending at your own "private" swimming hole.
As with most of their tours, there are a variety of options within each one, and it's best to discuss the details further with Southwest Outside Adventures themselves.
Stay in Luxury at our Sedona Bed and Breakfast
No matter what it is you spent your day doing in Sedona, we know one thing is true:  You'll be looking for someplace warm, welcoming, and comfortable to end your day.  Luckily, our Sedona Bed and Breakfast offers exactly that, and so much more!  Book your room at the Canyon Villa Bed and Breakfast today, and experience hospitality like it was meant to be.
---