Hike the Airport Mesa This Fall & More Great Hikes
Airport Mesa in Sedona is known as one of the best places in the area to get that quintessential panoramic, birds-eye view of our majestic Red Rocks. From this vantage point, you'll see several famous formations, including Cathedral Rock, Courthouse Butte, Bell Rock, Chimney Rock, and Coffee Pot Rock. The Airport Mesa Loop is considered easy to moderate, clocking in at about 3.3 miles round trip—for more experienced hikers looking for a challenge, there are ways to extend this hike in length and difficulty.
Sedona's desert landscape and incredible landmarks are often thought of as sacred and many visitors to this area are seeking a deeper energetic connection with nature. The Airport Mesa is known as one of the four vortexes in Sedona, where people frequently report feeling strong energy radiating from this space. You'll often see folks pausing for meditation or yoga, and there are even local tour groups dedicated to sharing these practices.
This is just one of the things that makes Airport Mesa a must-see in Sedona. Thankfully, as a guest at our Sedona Bed and Breakfast, you'll have a peaceful and restful retreat as your home base. You can head out on the best Sedona hiking trails, knowing you'll return to your quiet and relaxing guest room. Or plan to take a dip in our outdoor pool with amazing views of the Red Rocks, especially at sunset. We can't wait to host you; make your reservation today!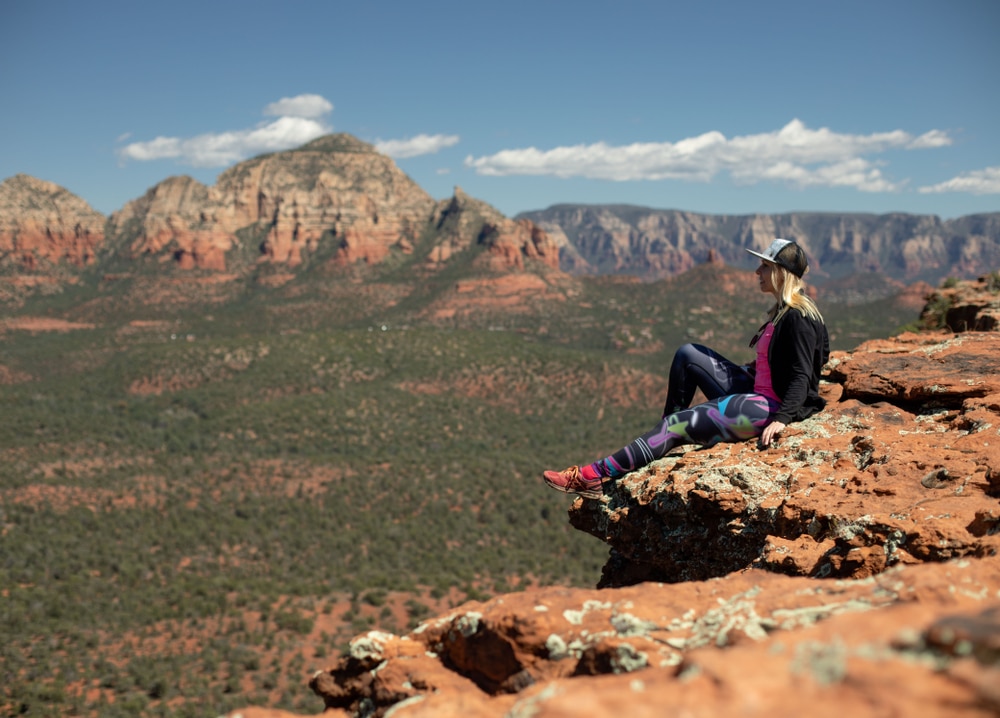 Head out to Airport Mesa Vortex & More of Fantastic Sedona Hiking Trails
The Airport Mesa Vortex is a popular spot to visit because of its close proximity to town. It's easily reachable and great for a quick hike before setting off on another adventure. It's the perfect way to begin your day, either way, we suggest heading out early or going closer to sunset, as there is little shade on this Sedona hiking trail. It's only a short walk from the parking area before you're fully immersed in the Red Rock scenery.
The Airport Mesa hike is a 3.3-mile loop that offers fantastic views of Elephant Rock, Courthouse Butte, Bell Rock, and Cathedral Rock while allowing you to experience the mystical energy of the area. For those who don't want to complete the full hike, there's an option to take a detour off the loop to the saddle for equally stunning views and more time to enjoy the peaceful atmosphere with less exertion.
More Sedona Hiking Trails to Check out This Fall: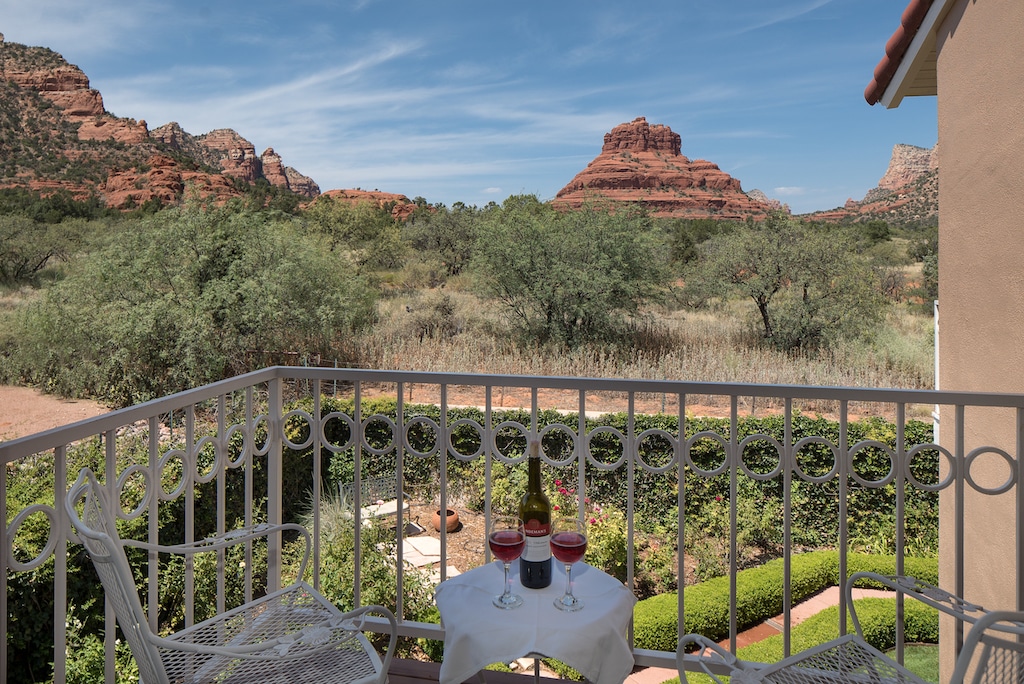 Stunning Views from Your Room at our Sedona Bed and Breakfast
After a wonderful day exploring Airport Mesa or experiencing many other adventures, our Sedona Bed and Breakfast will await your return! Our Inn was designed as a place of respite for couples and solo travelers, where you can take in the iconic views of Bell Rock and Courthouse Butte from the privacy of your room or relaxing poolside in our courtyards. It's a perfect place to reconnect and reflect.
We offer modern accommodations with classic touches; all guest rooms include luxurious bedding, air conditioning, cozy sitting areas, en suite bathrooms, and plush towels and robes. If you prefer to mingle, you'll feel right at home in our spacious living room. Find a good book from our library and curl up on a cozy autumn night. You may find yourself meeting other guests who have also explored Sedona and forming a friendship or two.
Each morning, we'll treat you to a home-cooked, seasonal three-course breakfast, including our world-famous cinnamon rolls! We're happy to accommodate all kinds of dietary preferences and restrictions including gluten-free, lactose intolerant, vegetarian, and vegan to name a few, just let us know at the time of your reservation. Join us at the best Sedona Bed and Breakfast and book your room today!
---