Visit the Breathtaking Red Rock Country of Sedona
Sedona is on the bucket list for adventurers the world over. Not only can you take fantastic day trips from here, like the trek from Sedona to the Grand Canyon, but you can enjoy some of the most impressive natural scenery in the entire country from right here in our backyard. Sedona is a world-class destination best known for its breathtaking red rocks. Whether you come to Sedona to hike, bike, shop, drink wine, take jeep tours, or relax in world-class wellness centers, these towering red rocks will set the perfect stage for your vacation. 
Though the rugged natural beauty of Sedona is the star of any great vacation here, there's so much more to Sedona than the scenery. It's truly a one-of-a-kind destination filled with adventure, a vibrant local arts and culture scene, and a unique energy that has to be experienced to be understood. Sedona has long been regarded by the Native American's who first called these lands home as a place of healing and spiritual renewal. This tradition holds strong in Sedona today, and the city continues to serve as a powerful source of inspiration for all who travel here. 
The once-in-a-lifetime experiences and inspiring views you'll enjoy while you're in Sedona can only be made better by extending your vacation to surrounding areas. As much as there is to do in Sedona, it's also a great basecamp for regional day trips, including the journey from Sedona to the Grand Canyon. Below, we'll cover not only how to get from Sedona to the Grand Canyon but the best time of year to visit and the best things to do – especially when you're time is limited.
Keep reading, and update your bucket list to ensure your Sedona is on it. When you're ready, book a room at the Canyon Villa Bed and Breakfast Inn of Sedona, one of the best places to stay in Sedona!

How to Get From Sedona to the Grand Canyon
Though there's plenty to see and do in Sedona while you're here, many of our guests are looking to enjoy the best of northern Arizona while they're here. Did you know that it only takes around 2 hours from Sedona to the Grand Canyon? That, of course, depends on how much you stop and do on the way, too. 
Sedona is located about 45 minutes south of Flagstaff via Highway 89A, which also happens to be one of the most beautiful drives in the state. The route is only around 30 miles long, but the scenery as you pass through Oak Creek Canyon is stunning. Don't miss the chance to stop at the Oak Creek Vista Overlook – it's a great place to get some dramatic canyon & red rock views of the area before you continue from Sedona to the Grand Canyon. 
As you leave Flagstaff and continue on your way from Sedona to the Grand Canyon, there are two routes you can choose from. We recommend taking Highway 180 towards the Grand Canyon South Rim, as it's much more scenic. Keep your eyes open and enjoy the varied scenery, from soaring mountains and pine forests to expansive high desert plains dotted with Pinon Pines. Eventually, you'll join up with Highway 64 and pass through Grand Canyon Village before ending your trip from Sedona to the Grand Canyon at the South Rim entrance to the park. 
The alternative route out of Flagstaff is to take Interstate 40 west to Highway 64 and then north towards the South Rim Entrance of the Grand Canyon. It's only slightly faster, though, and far less scenic. Alternatively, if this drive sounds like too much to you, you can join up with our friends at Southwest Outside Adventures and enjoy a day trip tour from Sedona to the Grand Canyon. 
Things to do in the Grand Canyon
You've arrived at the Grand Canyon, and you have one day to make the most of it. What do you do? There are many ways to enjoy your day, and though the Grand Canyon is immense, it can certainly be appreciated in a single day. The South Rim is the most famous part of Grand Canyon National Park to visit, especially for first-time visitors. Since our trip from Sedona to the Grand Canyon ends at the South Rim, we'll focus our list of things to do on that area of the park.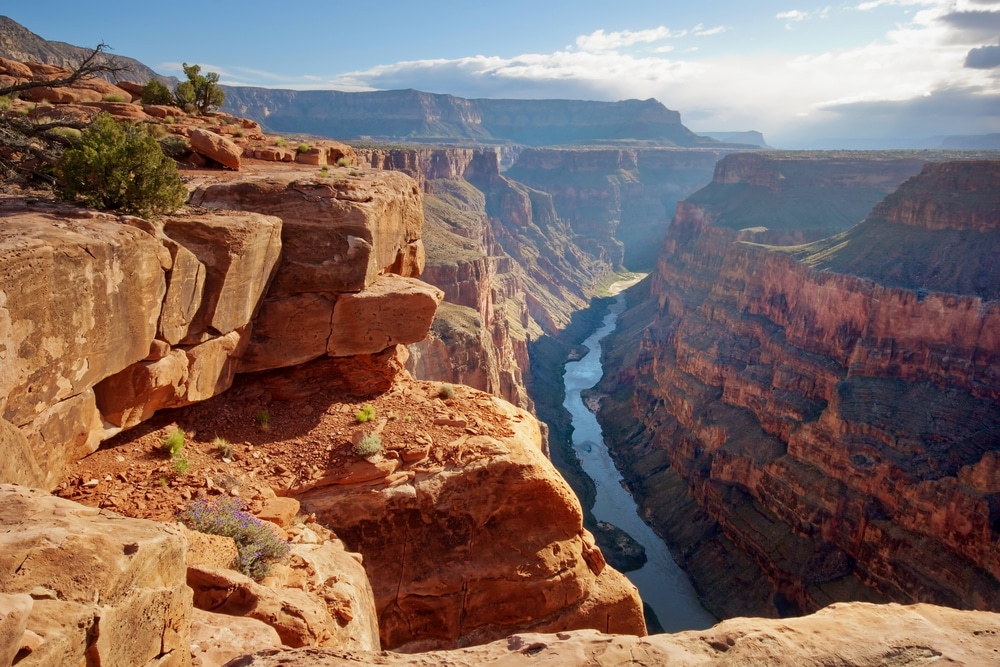 Best Time to Travel From Sedona to the Grand Canyon
The Grand Canyon is one of our many national treasures – let alone one of the Natural Wonders of the World – and it is the second most visited National Park in the country. You're bound to run into crowds just about any time of year, but even so, many of our guests wonder at the best time to make the trip from Sedona to the Grand Canyon. So, when is the best time to visit the Grand Canyon?
If you want to make the trip from Sedona to the Grand Canyon, it's helpful to know that Grand Canyon National Park is busiest between Memorial Day and Labor Day. This is also one of the hottest times of year in Arizona – so is it really the best time to visit the Grand Canyon? Of course, the answer to that depends on what you plan to do. 
In general, we think the shoulder seasons from March-May and September – November are the best time to visit the Grand Canyon. Coincidentally, we believe these are the best times to visit Sedona, too! Throughout these months, you'll find that the daytime temperature is a bit cooler than our summer highs, and the crowds are fewer, too. This adds up to more time for you to enjoy your day trip from Sedona to the Grand Canyon to its fullest. 
The South Rim is open year-round, too, even though much of the park closes at first snowfall. Even if you do choose to travel from Sedona to the Grand Canyon during the park's peak season, you'll still enjoy your time there, of course. Just be prepared to enjoy the park's beauty in the company of plenty of other tourists, and plan to take proper gear and plenty of water.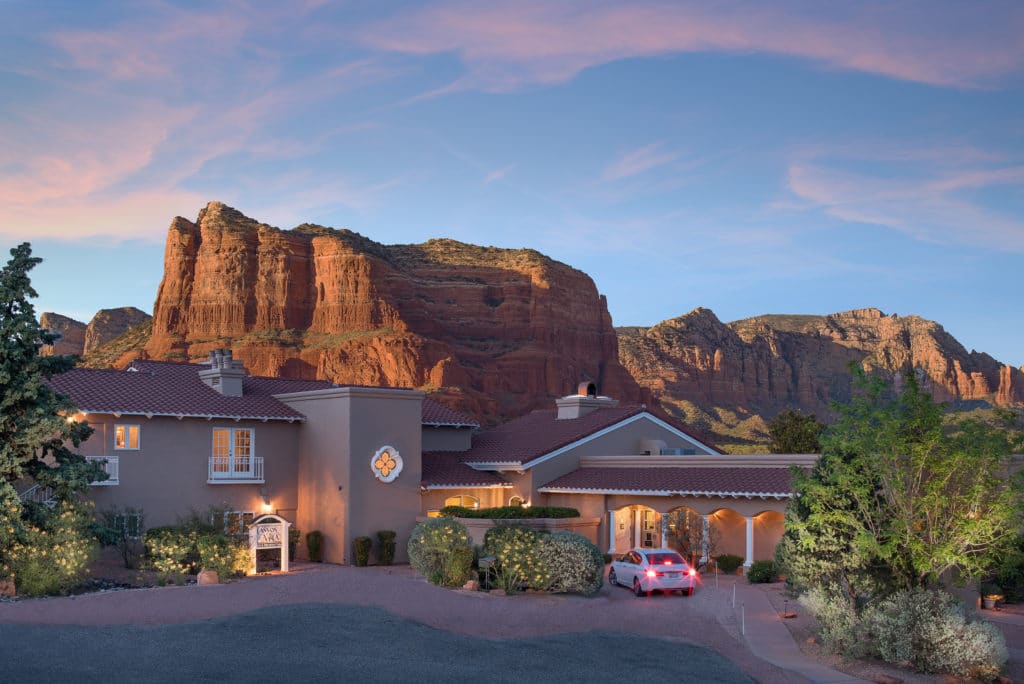 One of the Best Places to Stay in Sedona
Now that visiting Sedona, and even better making the trek from Sedona to the Grand Canyon, is within grasp this year, it's time to talk about where you're going to stay. When you vacation at our stunning Bed and Breakfast, you will quickly realize that you have found one of the best places to stay in Sedona. Like you, we have the highest expectations for your stay. With our attention to detail, you can expect to have the best experience possible for the duration of your stay in Sedona. 
We offer guests their choice of luxurious Guest Rooms. Many of our rooms feature cozy fireplaces, King-sized beds, and spectacular views of the Red Rock from your private room. Each guest room is outfitted with a broad range of amenities, too, including delicious afternoon appetizers and evening tea with dessert, free Wi-Fi, luxury linens, and customized toiletries. With such show-stopping views, is it any wonder many consider our Inn one of the best places to stay in Sedona?
In the morning, as you get ready for your days' adventure ahead, we'll serve you a hearty and delicious breakfast made fresh for you right here at the Inn. We bake our signature cinnamon rolls fresh every day of the week! We serve a three-course meal to ensure that you are well satiated for your day.
When you want to take a break from hiking, biking, and exploring beautiful red rock country, we offer that, too! The Canyon Villa Inn offers an outdoor pool and patio. Much like our guest rooms, you'll enjoy exquisite views of the towering red rocks behind our Inn from here. The pool is seasonal and best-enjoyed from April – to mid-October. What else could you possibly need during your vacation?
Canyon Villa Bed and Breakfast Inn of Sedona is by far one of the best places to stay in Sedona. Book a room with us now, and see just how special this place is for yourself!