Hiking, Biking, and Trails
Want to get outside, breathe the fresh air, see some amazing landscapes and get some exercise while you're at it? With over 80 marked trails and trailhead in Sedona, hiking here is perfect for all these things.
Click HERE for a complete list of marked Trailheads in the Sedona Red Rock Ranger District.  This website from the National Forest Service includes printable trail maps and descriptions.

Desert Hiking in the Red Rocks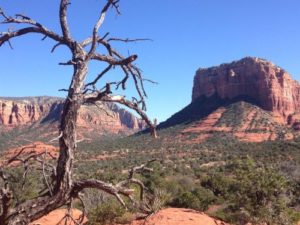 One of the most popular hikes in Sedona is Courthouse Butte Loop which goes all the way around Bell both Courthouse and Bell Rocks.  It is especially popular with guests of Canyon Villa Inn since the trailhead is just across the road from us.   Guests can walk to the trailhead within minutes right from our door.  Likewise, guests can access unmarked "social" trails right from our property that wander into the desert within view of our property. 
For the more aggressive hiker, trails like Bear Mountain, are popular and more challenging.  Bear Mountain climbs 1,800 feet and provides a panoramic view of the peaks of Flagstaff and the surrounding landscape. The hike is 5 miles round trip.
Other popular hikes include but are not limited to Cathedral Rock, Baldwin Trail, Doe Mountain, Brins Mesa, an the beautiful Boynton Canyon.  Hiking books detailing these trails can be borrowed or purchased from us here at Canyon Villa.   If you prefer not to go out alone and would like a professional hiking guide, we highly recommend Mike Krajnak of 
Southwest Outside Adventures
.
Forest Hiking in Oak Creek Canyon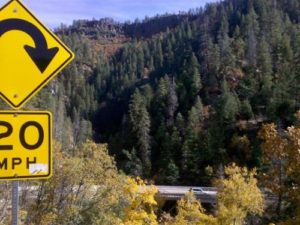 The West Fork Hike is a 6 mile trail along and across a flowing creek surrounded by rock slopes that tower alongside, forming picturesque images as they are reflected in the water. This hike is especially worth doing in the fall, when the trees take on particularly vibrant colors.  And in the summer, the cool rushing water of Oak Creek as is rushes down from Flagstaff is a welcome relief.   Since this hike involves crossing the creek at several points, wearing clothing that can get wet is recommended.
Road or Mountain Biking near Canyon Villa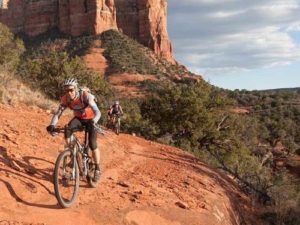 Absolute Bikes or Sedona Bike and Bean
Either of these Bike Rental companies are within just a block or two from Canyon Villa.  Rent the perfect mountain or street bike for you and your partner. Mountain biking is KING in Sedona, and some of the best bike trails are just a stones throw from Canyon Villa. You can also ride the winding streets through the Village neighborhood or follow the bike lanes up and down scenic SR 179.