Visit the Tlaquepaque Arts & Shopping Village in Sedona
Winter is a wonderful time to visit us in Sedona!  Though the weather does get chillier than in other parts of Arizona, the weather is still mild enough to get outside. There are also plenty of other things to do in Sedona in winter, including enjoying some time at the Tlaquepaque Arts and Shopping Village. It's an incredible place to visit, and one visitors return to time and time again.
The Tlaquepaque Arts and Shopping Village is a great outdoor market near Sedona, and it features a wonderful array of art galleries, boutique shops, restaurants, and more. It's by far the most distinctive shopping experience in the Sedona area and experience we can highly recommend to guests of our Sedona Bed and Breakfast.
The Tlaquepaque Arts and Shopping Village is only 13 minutes from our Inn, located on the beautiful banks of Oak Creek in downtown Sedona. Here, you'll enjoy the stunning Red Rock views Sedona is famous for, with the towering heights of Bell Rock and Courthouse Butte visible from nearly every corner of our luxury Bed and Breakfast.  With exquisite accommodations and exceptional hospitality, it's genuinely the best winter getaway.  Book your room today!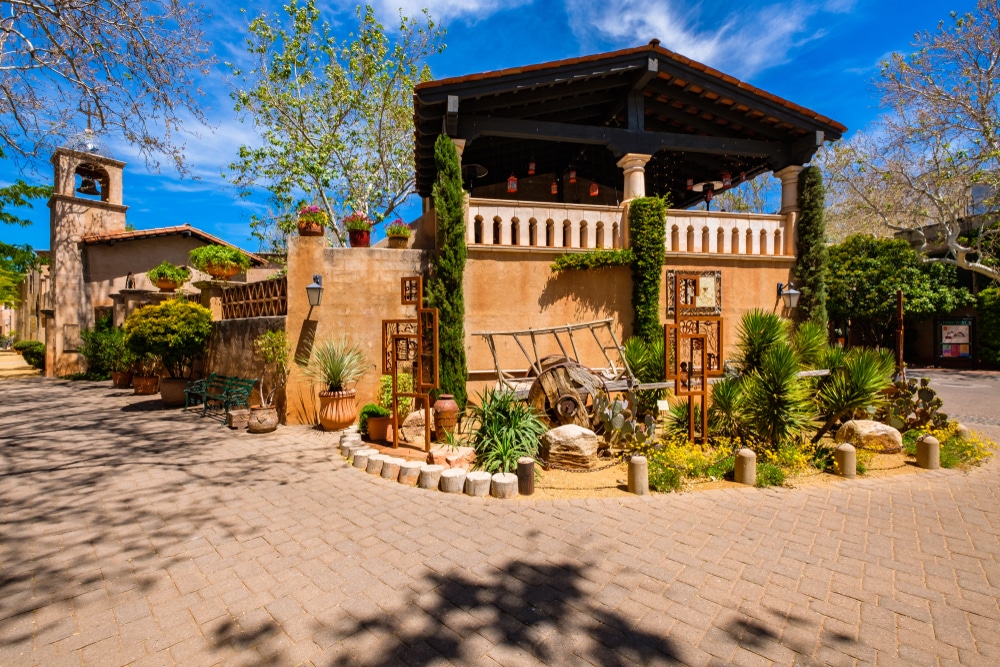 Visit Tlaquepaque Arts and Shopping Village In Sedona
With beautiful cobblestone paths and decorative arches, a visit to Tlaquepaque Arts and Shopping Village is about more than just shopping. This delightful shopping area was built in the tradition of a Mexican village, Tlaquepaque, which means the "best of everything." It's a wonderful place to wander and get lost in the beauty of the experience.
Tlaquepaque Arts and Shopping Village was originally planned as an artists community, and it's not uncommon to see artists actively working in the space today. It feels as though the Tlaquepaque Arts & Shopping Village has been here for centuries, and it's the timeless beauty of this place that leads to such a charming and memorable shopping experience.
Of course, it doesn't hurt that the Tlaquepaque Arts and Shopping Village is home to some genuinely exceptional art galleries and boutiques, not to mention some great Sedona restaurants.  It's the perfect place to hunt for one-of-a-kind art pieces and distinctive gifts and otherwise enjoy a remarkable afternoon in downtown Sedona.
It's not all about the shopping and art galleries at Tlaquepaque Arts and Shopping Village, though.  This area is a lively and active cultural hub in Sedona, and accordingly, there are frequent festivals, fiestas, wine fests, art events, and holiday events held here.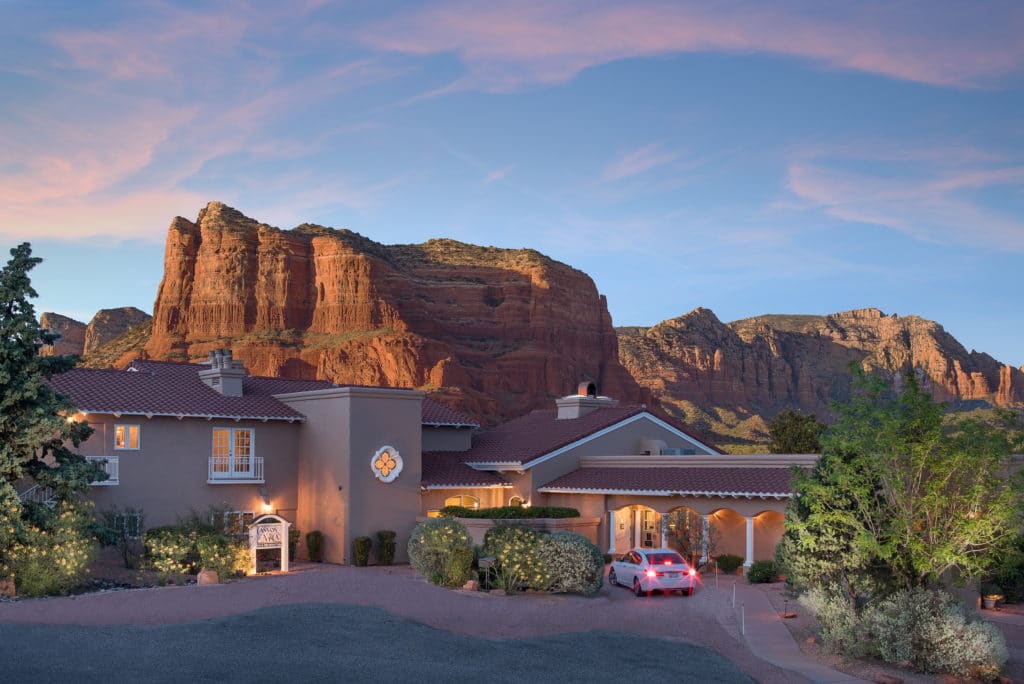 The Best Sedona Bed and Breakfast
Sedona is a wonderful place to visit in the winter, filled with great opportunities for hiking, healing, shopping, dining, and more.  At the heart of your getaway is our Sedona Bed and Breakfast, a space filled with breathtaking views of Sedona's red rocks. Our Inn is casual yet elegant and the perfect place to catch your breath and escape from the stressors of everyday life.
Our Sedona Bed and Breakfast boasts 11 guest rooms, each uniquely decorated to reflect the natural beauty of Sedona and outfitted with a broad range of modern amenities.  In the morning, you'll be treated to an exquisite breakfast every morning of your stay.  Each breakfast starts with our signature cinnamon rolls and includes a diverse array of breakfast options sure to tantalize every taste bud. We're also happy to accommodate all kinds of dietary preferences and restrictions, including gluten-free, lactose intolerant, vegetarian, and vegan guests.
When you're ready to get outside and explore more of the Sedona area, we're happy to offer you free concierge service. We've curated relationships with several local tour operators and adventure companies and can happily recommend you some truly exceptional and authentically Sedona experiences.
But first, you need to book a room.  Give yourself the break you've needed this winter, and visit our Sedona Bed and Breakfast.  You won't regret it for a second!
---