Experience a Sedona Vortex This Fall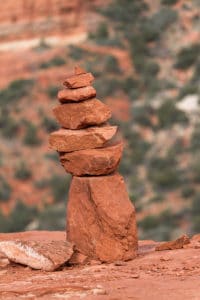 Have you ever experienced the healing energy of a Sedona Vortex? There is no shortage of reasons to visit the incredible town of Sedona and energetics is just the beginning. Whether you come for hiking, photography, art, or something else entirely, You'll see from the moment you arrive just how magical Sedona is. Sedona has long placed wellness at the center of everyday life. Spas offer indigenous treatments and materials, and wellness practitioners are plentiful. The healing power of the Sedona vortex is at the heart of it all.  People travel from all over the world to experience this energy. This fall is the perfect chance to embrace the healing energy of the red rocks for yourself. Come join in the search for healing and leave feeling inspired. Book a room at our Sedona Bed and Breakfast today.
Healing Power of a Sedona Vortex
The Vortices of Sedona are thought to be swirling centers of energy; sacred places where the ground beneath your feet feels very much alive. It's an interesting phenomenon, and they have long been revered for their healing properties. In all actuality, the entire town of Sedona is considered to be one big vortex, renowned for its healing energy. From the moment you arrive at our Bed and Breakfast, you're likely to notice the difference. There's something tangible in the air in Sedona, but it's hard to describe unless you've felt it for yourself. While all of the red rocks may give off these transformative energies, there are certain places
where you can experience these energies more intensely.
Each Sedona vortex offers something slightly unique, and at most you'll find people practicing yoga, meditating, and otherwise absorbing energies in whatever way makes the most sense for them. There are 4 main destinations considered to harbor strong vortexes and a fifth that many people find healing in its own right.
If you're short on time, you may want to consider joining one or more Sedona vortex tours, but you can visit each of them individually, too.
Continue the Healing at our Sedona Bed and Breakfast
Our Bed and Breakfast offers exceptional views of Bell Rock and Courthouse Butte. This fall, come in search of the healing energy of a Sedona vortex and find that our Inn is the perfect retreat. Here, you'll find the time to need to breathe, relax, and just be at one with the healing energies flowing in and around you. The amenities at the Canyon Villa Bed and Breakfast in Sedona are unbeatable, ranging from a delicious and made-from-scratch breakfast each morning, afternoon appetizers and evening desserts, a full concierge service, deluxe linens, custom toiletries, luxurious robes to lounge in, and so much more.  This fall, come see what sets us apart from other hotels in Sedona.  Book a room at our luxury Bed and Breakfast today.
---