Unwind at the Best Sedona Bed and Breakfast
From the moment you drive up to our Sedona Bed and Breakfast, you'll see why we've earned nearly 2,500 five-star reviews on TripAdvisor over our decades of welcoming guests. First, you'll take a moment to enjoy the spectacular views of the Red Rocks framing the Inn—it's just one of the many facets that make our Sedona Bed and Breakfast the best place to stay. You'll see these Red Rock views from just about every corner of our Bed and Breakfast, including your private guest room and our seasonal pool.
Our tranquil oasis includes luxuries to help you stay cool and have the best time on your Sedona getaway. The higher elevation of Sedona, at 4,500 feet, keeps this desert town just a bit cooler than some of the other areas, even in the height of summer. You can time your outings appropriately to comfortably explore the natural beauty nearby. During the hottest parts of the day, retreat back to our Sedona bed and breakfast for a refreshing dip in the pool or relax inside in the air-conditioning.
A stay at our Sedona Bed and Breakfast also includes a delicious three-course breakfast each morning of your stay. Our breakfasts are the perfect fuel for whatever adventure you choose to explore. From beautiful hikes and guided tours to world-class dining and attractions, you'll find plenty of things to do in Sedona during your stay. Reserve your room at our Sedona Bed and Breakfast today!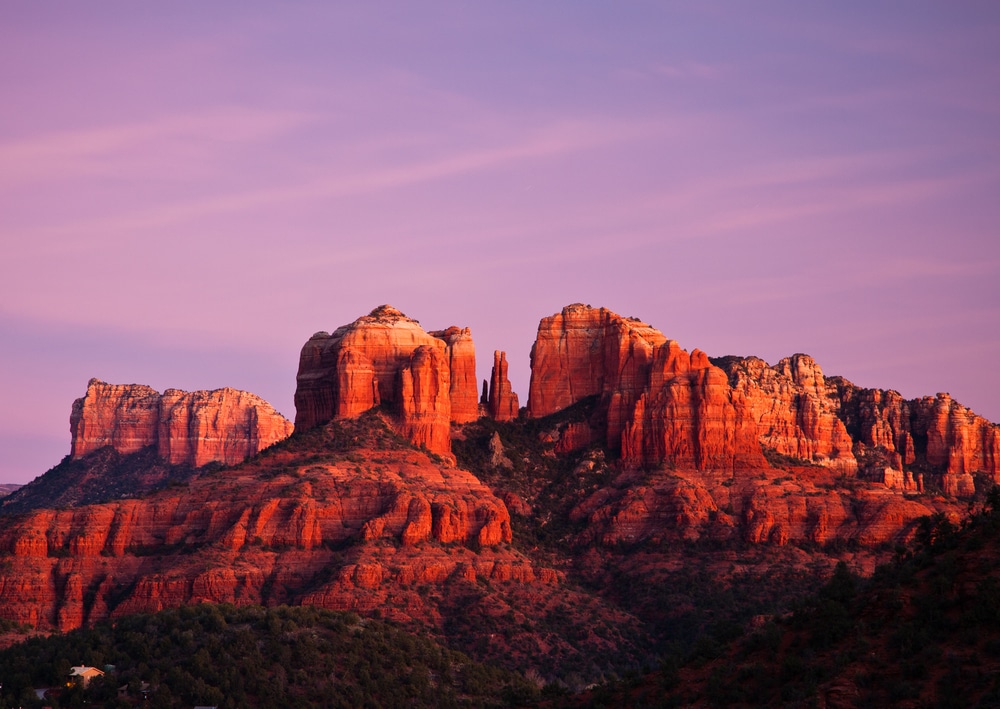 Stay at our Luxurious Sedona Bed and Breakfast
While our Inn is just a quick 15-minute drive to downtown Sedona, our nearby small community of Oak Creek also has some fantastic attractions. Our Sedona Bed and Breakfast is a quiet, private oasis tucked in the natural splendor of this desert landscape. Our luxurious Inn is the perfect place to renew and rejuvenate any time of year—though one of the best times to visit Sedona is on the horizon this spring.
Here are the best reasons why to stay with us at our Sedona Bed and Breakfast this year:
Luxurious Accommodations: Our guest rooms are the best escape from the heat and a great place to unwind mid-day and at night. All rooms are air-conditioned with amenities like light robes, comfortable beds fitted with lovely linens, and pristine en suite baths. With only 11 private rooms, you'll never run into unexpected crowds or unwanted noise—always a possibility at larger lodging properties.
High-End Amenities: You'll enjoy our full 24/7 concierge service, fine linens, a plush mattress, custom toiletries, luxurious towels and robes for the pool, as well as afternoon appetizers and evening tea with dessert—just to name a few!
Spacious Shared Spaces: Other air-conditioned inside spaces at our Sedona Bed and Breakfast are perfect for a leisurely afternoon. Sit in our spacious living room, where you can view the breathtaking red rock landscape. Our library is stocked with over 1,000 books, and there's free wi-fi throughout the property.
Swimming On-Site: Our outdoor pool is just the place to sit on a warm day under the shade of an umbrella. Taking a dip in the pool (heated with solar power), the water temperature ranges from a perfect 76 to 82-degree average and feels absolutely amazing in the morning or after a hike. Soak in the incredible views of Bell Rock, Courthouse Butte, and surrounding red rock formations. The tranquil green gardens of our courtyard offer plenty of seating and places to relax at our Sedona Bed and Breakfast.
Homemade Breakfast Service: A delicious three-course breakfast awaits you every morning during your stay at our Sedona Bed and Breakfast. Our scratch-made gourmet meal changes daily. You'll wake up to the delicate aromas of freshly baked cinnamon rolls and coffee.
Nearby Hiking Trails: One of the most popular things to do near our Sedona Bed and Breakfast is hiking. The

Bell Rock and Slim Shady Trails are within easy walking distance, and the

 West Fork Trail at Oak Creek Canyon brings you along a creek among the red rocks. Slide Rock State Park features a rock water slide into a series of swimming holes that are a must-see!
Restaurants and Attractions: This little town of Oak Creek offers three golf courses, charming shops, and delectable restaurants. Though you also won't be far from the downtown area of Sedona, where you'll find all the most popular tourist attractions, award-winning restaurants, and the Tlaquepaque Arts and Shopping Center.
World-Class Hospitality: Our Inn is much more than a place to stay. Over the past few decades, we've had the honor of caring for our guests and curating their experiences while staying with us. That includes the destinations we recommend and the businesses we trust. This individualized service isn't something you'll find at just any lodging property in the area.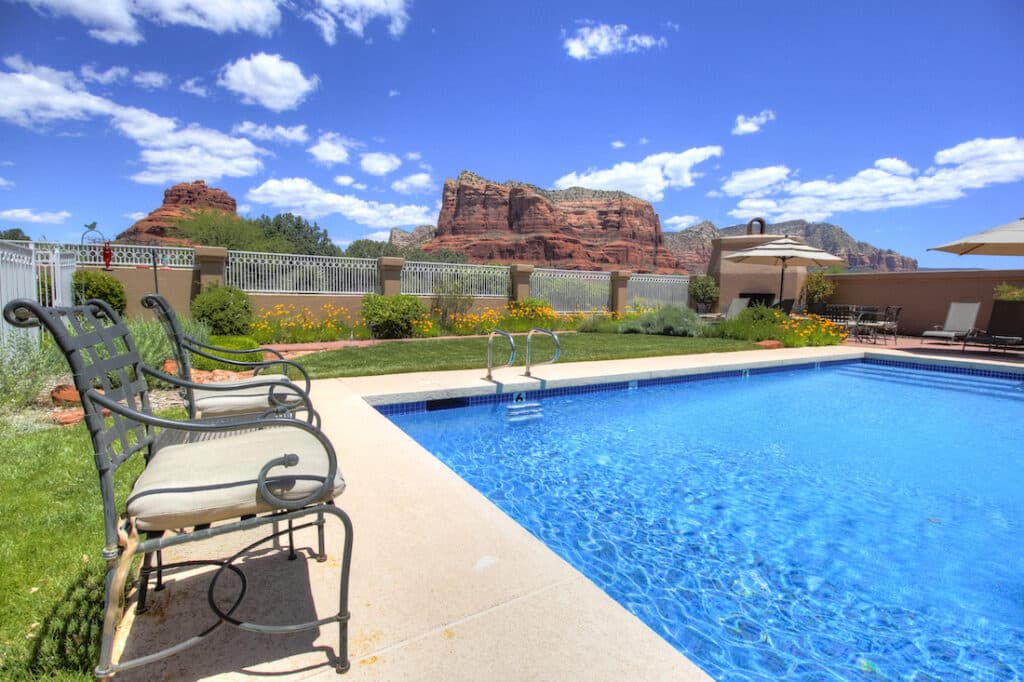 The Best Time to Visit Sedona in 2023
Though we would never discourage a guest from visiting Sedona any time of year, the general consensus is that the best time to visit Sedona is spring or fall. Both seasons are more crowded but full of color, with mild temperatures, perfect for outdoor adventures. Spring brings lovely wildflower blooms. The vibrant pinks of cactus flowers set in contrast to the variable shades of Red Rock are stunning – and excellent fodder for Instagram pictures.
Speaking of snapping those perfect photos for Instagram, here's a quick list of some of our favorite Instagrammable locations in Sedona. This goes for fall as well! By October and November, the summer heat has lifted, and Sedona is bursting with fiery autumnal colors.
Sedona is about two hours north of Phoenix, just under four hours north of Tuscon and southeast of Las Vegas. When the desert temperatures in those cities heat up too much, it's the perfect time to enjoy a change of scenery and cool off at our Sedona Bed and Breakfast. There's no "bad" time to visit Sedona, as it's a beautiful destination year-round. There are even numerous reasons to plan a getaway in the wintertime.
Whichever you decide is the best time to visit Sedona, our luxurious bed and breakfast will await your arrival. Check out our upcoming availability and reserve your room today!
---