Dine at Mariposa Restaurant in Sedona This Winter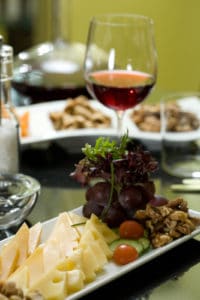 If you need another reason to visit us in Sedona this winter, the Mariposa Restaurant might just be it. It's an upscale restaurant with South American -inspired cuisine.  But just as good as the food are the panoramic views of Sedona you want.
Sedona has been a popular getaway destination for decades.  The town itself is filled with stylish boutiques, chic restaurants, art & museums, entertainment venues, and so much more. Sedona is more than just a town, though. It's one of the most beautiful places in the world; a place people from all over Arizona and the world come to see.  Though people come to Sedona for a variety of reasons, the astounding natural beauty of this place is almost always at the top of the list.
At an elevation of 4500 feet, Sedona offers 4 distinct seasons of outdoor adventure and other experiences. What's more, with generally mild summers and winters, it's all enjoyable year-round. There are more than 300 miles of trails and incredible landscapes to discover in Sedona, but that's only the beginning. It's also regarded as a place of healing and wellness, with vortex energies scattered throughout the red rocks.
As though this all were not enough to entice you to visit Sedona already, it also offers a thriving cultural experience. At the heart of it all are great restaurants, like Mariposa Sedona.  Come stay at our luxury Bed and Breakfast in Sedona this winter, and experience a small slice of the good life in this one incredible destination. Book your room at our luxury Inn today.
Mariposa Restaurant in Sedona
Whatever it is that brings you to town, whether it's a restful getaway or hiking through the stunning red rock landscapes, you'll eventually wind up needing dinner plans.  For that, there are a variety of restaurants in Sedona that can satiate any appetite. One of our favorite places to send guests, though, is Mariposa in Sedona.
Mariposa Sedona, a Latin-inspired grill, was named by OpenTable as one of the 100 most scenic restaurants in America. The stunning architecture of the building blends seamlessly with the extraordinary setting surrounding it.  Mariposa Sedona sits at the top of a scenic bluff, offering floor-to-ceiling windows and an outdoor patio that allows you to take in the restaurant's signature views of Sedona's stunning red rocks.
The meal is just as good as the views, if not better. Dishes from the inspired chef include wood-fired grill and wood-burning oven to create handmade empanadas, ceviches, grilled chorizos, fresh fish dishes, mole and house-made chimichurri sauces. The restaurant itself houses more than 600 bottles of wine, too, ensuring you'll have the perfect drink to complement your food. As with most great restaurants, Mariposa Sedona sources from the highest quality of meats, fish and produce, and they use Arizona-grown, all-natural organic products that have been grown sustainably. It's just one of the many things that set them apart from other Sedona Restaurants.
Luxury Lodging in Sedona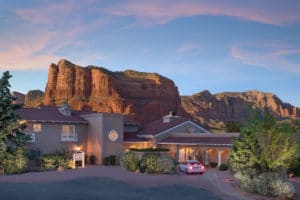 Dining well is an important piece of an enjoyable getaway in Sedona. There are a number of great restaurants in the area, but one of the very best dining experiences is at Mariposa Sedona. Afterward, the comfortable accommodations at our Inn will be waiting for you.Mar
How much of Sedona you see while you're here is up to you, but it all begins with your stay at the luxurious Canyon Villa Bed and Breakfast. There are few accommodations that offer hospitality in the same way as the Canyon Villa Bed and Breakfast. With impeccably framed views of Sedona's Red Rocks, the Canyon Villa Bed and Breakfast is a place like no other. Book your room at this extraordinary place today!
---