Keep Cool at our Sedona Bed and Breakfast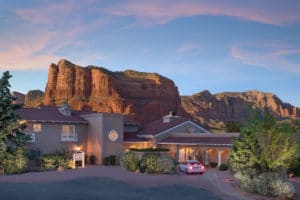 While the rest of Arizona can be pretty hot at this time of year, with temperatures often reaching into the 100's, Sedona stays pleasant and relatively mild. It's still hot, but the weather is certainly no reason to stay away. This vibrant arts community, surrounded by its scenic red rock buttes, steep canyon walls, and pine forests, is a haven for outdoor enthusiasts.  There are miles upon miles of hiking and biking trails, excellent bird watching, and incredible desert landscapes to photograph. However, there's much more to Sedona than meets the eye, and our Bed and Breakfast is the perfect place from which to enjoy it.  Come cool off this summer at our Sedona Bed and Breakfast.  Book your room today!
Cool Off and Relax at our Sedona Bed and Breakfast
Sedona is about 2 hours north of Phoenix, and just under 4 hours north of Tuscon and southeast of Las Vegas. When the desert temperatures in those cities heat up too much, it's the perfect time to enjoy a change of scenery and to cool off at our Sedona Bed and Breakfast. Set amidst the stunning red rocks of Sedona, with breathtaking views of Bell Rock and Courthouse Butte, the Canyon Villa is the perfect getaway this summer. Whether you're relaxing poolside reading the latest summer novel, or taking to the rocky hills beyond, Sedona is the perfect place to enjoy a few relaxing summer days.  When you're ready to explore, here are a few of our favorite things to do in the Sedona area:
Above all else, this summer, take the time to pamper yourself and rest at our luxury Bed and Breakfast in Sedona. Our award-winning Inn was designed with you in mind. We're here to make your vacation memorable and relaxing.  Escape the desert heat this summer, and book a room at our Sedona Bed and Breakfast today.
---