Try These Unique Jeep Tours in Sedona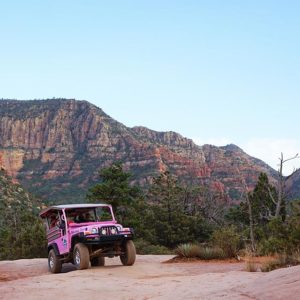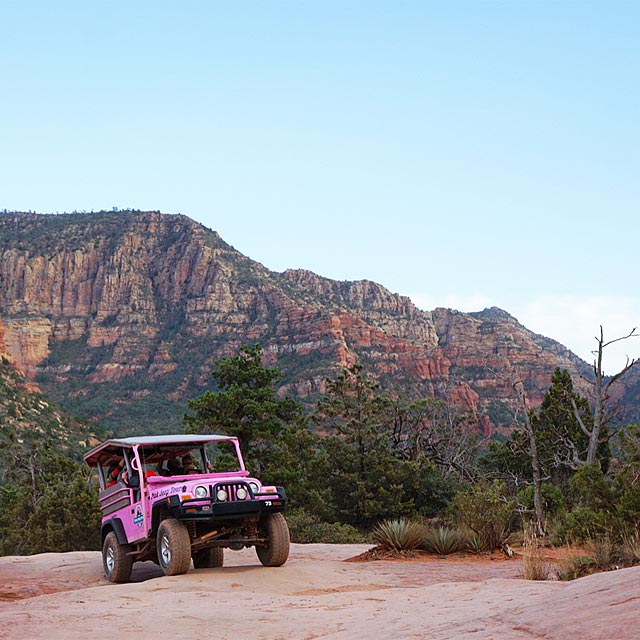 Whether on foot, by bike, via jeep tours, or some other mode of transportation, exploring the twists and turns of Sedona in the fall is one of our favorite things to do. Fall in Sedona is magical. As the light filters down and baths the rocks in its golden hues, it somehow makes the fall colors fo Sedona seem even richer. Sedona's weather throughout the fall season is mild; perfect for getting outside and exploring these incredible landscapes to your heart's content.
From the moment you arrive at our Sedona Bed and Breakfast, with breathtaking views of Bell Rock and Courthouse Butte in the background, you'll be mesmerized. Our Innkeepers are very knowledgable about the Sedona area and can help you fill your time with activities and make the most of your time with us. Come visit us this fall, and book a room at our Sedona Bed and Breakfast.
Extraordinary Private Tours in Sedona
Though there are several great companies, tours, and experiences to enjoy in Sedona, we prefer sending our guests to Southwest Outside Adventures for private tours. Their incredible adventures range from 3-hour tours of the backroads to half-day hiking treks that will take you into remote and pristine areas particularly those that have been largely untouched by tourism to Sedona. Owner and head guide, Mike Krajnak, has lived in the area since 1985 and is considered to be one of the best guides in the Sedona area. He'll even take you for a full day into the Grand Canyon if that's what you desire.
3-Hour and Half-Day Adventures in Sedona:
Sedona Sunset, which involves a short walk into the heart of the red rocks to a beautiful location for a great southwestern sunset.
Slickrock Scramble, a unique hike on a red rock terrace.
Vortex Walk, where you'll experience the power and beauty of some of Sedona's most famous energetic hotspots.
Sinkholes & Spires, which includes a variety of hikes around Sedona's famous sinkholes and spires.
Canyon Sampler, a personalized journey of the best of Sedona's red rocks.
Full-Day Tours of Sedona:
The Sedona Grand Adventure is great if you're short on time, and it combines the best parts of a Sedona backcountry experience into one full day of adventure.
The Mountain Summit Adventure is for those travelers looking for a challenging backcountry experience that takes you to the top of red rock country. Spectacular views and a peaceful solitude will be found, and enjoyed, at the top.
Canyon Explorer, a full-day hike in one of Sedona's beautiful canyons, is a great way to experience this beautiful place.
There are also incredible Native American Tours, Grand Canyon Tours, and Arizona-UtahTours offered by this company.
Pink Jeep Tours in Sedona
Southwest Outside Adventures isn't the only option for jeep tours in Sedona, though. There are 3 others in Sedona who offer tours, each of which has a great reputation and well-trained drivers and guides. No doubt if you've looked into visiting Sedona, you've seen the classic photos of the Pink Jeep Tours. Leaving out of Sedona, the Pink Jeep Tours offer 16 incredible adventures, including a Hiking Tour, the Scenic Sedona Tour, Scenic rim Tours, Ancient Ruins Tours, their Touch the Earth Tour, and tours of Antelope Canyon and Horseshoe Bend.
There is little doubt that you'll have an amazing time if you choose to travel with Pink Jeep Tours. The most popular jeep tours are the Pink Jeep Tours, but others include Day in the West and Red Rock Jeep Tours.
Best Lodging in Sedona
If you're taking the time to visit Sedona, you'll want to book lodging that is both welcoming and reflective of the area's natural beauty. You'll find that at the Canyon Villa Bed and Breakfast, located just outside of Sedona in the Village of Oak Creek. Our award-winning Bed and Breakfast is designed to showcase these incredible views, of course, but staying here is about more than what's out your window.
Each morning begins with a freshly-made gourmet breakfast, and exceptional hospitality will follow for the rest of your stay, including taking care of every detail of your travel arrangements as needed, so your stay is nothing but memorable and relaxing. Book your getaway to the charming town of Sedona today!
---