5 Amazing Reasons to Hike Devil's Bridge in Sedona this Summer
You may not think hiking in Arizona in the summer would be ideal, and you may be correct if you were to hike in places such as Pheonix or the Scottsdale area with their triple-digit temps. But a hike to Devil's Bridge in Sedona offers relatively cooler days, significantly fewer crowds, and gorgeous views of Sedona's well known Red Rock region. This fun little hike is short but mighty! You won't regret getting out and going on this must-see excursion.
Our luxurious bed and breakfast is the perfect escape for you this summer. Located in a small, quiet community just outside of Sedona, Canyon Villa Bed and Breakfast is far enough away, yet still in close proximity to world-class hiking and other outdoor activities. If you are looking for the best summer getaway after a long winter and spring, we will be here to welcome you. Book your stay with us today!
5 Reasons to Hike Devil's Bridge in Sedona
Summertime in Sedona is an often underappreciated time of year in Arizona. But the magic of this place is revealed to those who come out to see the beauty of the desert at it's best. A hike to Devil's Bridge in Sedona is a great way to get out, move your body, and enjoy this breathtaking landscape during this special time of year. A hike to Devil's Bridge reaps many rewards for those who are prepared by wearing sturdy shoes, bringing plenty of water, and taking plenty of breaks.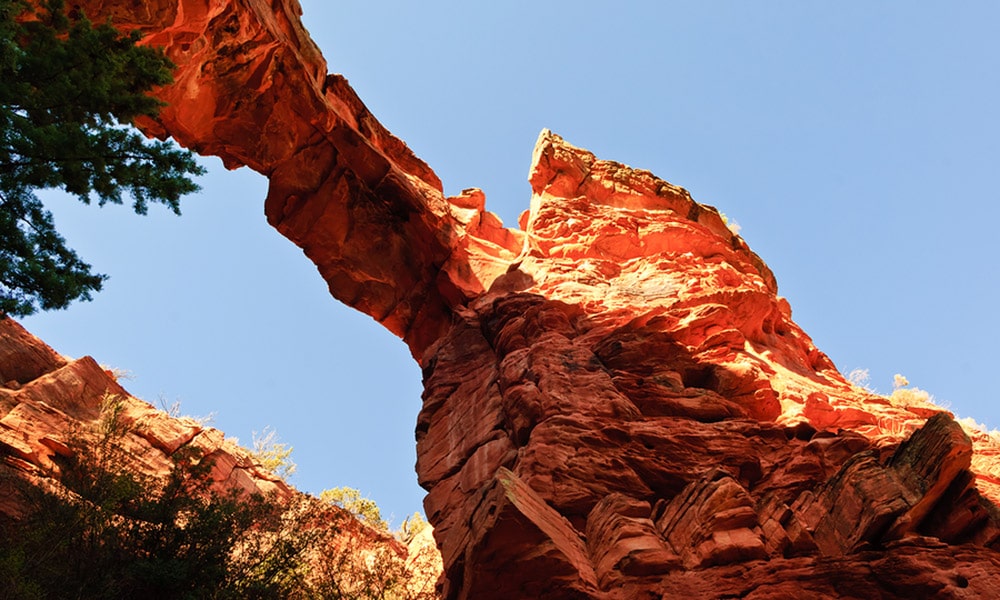 Here are our favorite reasons to hike to Devil's Bridge in Sedona this summer!
Most people visit Sedona and the surrounding area as a wintertime escape or a spring break. As the temperatures rise, the crowds tend to thin out! So you get to enjoy a hike like Devil's Bridge in Sedona without time wasted on trying to find a parking spot or waiting to get that perfect picture. Be sure to start out early for both the extra solitude and cooler temps in the morning.
Devil's Bridge in Sedona is a hike that has 3 options for how to get there. If you happen to be in Sedona with a 4×4 vehicle, you can drive directly down to the Devil's Trailhead. This will make your trip just a 1.8-mile round trip hike. Most people opt for parking at the Mescal Trailhead. This is the best for people with a passenger vehicle and will make your hike a nice 4-mile roundtrip. If you are feeling up for it, parking at the Dry Creek Road Trailhead will extent the hike to 5.8 miles in total. There is good signage once on the trail.
The views and scenery of the Devil's Bridge Sedona area will leave your jaw on the floor! You'll hike past colorful rocks saturated by the summer sun, interesting desert plant life, and views that will stop you in your tracks. With all the amazing views you'll be stopping many times on your way up to Devil's Bridge to snap a few pictures. This, in turn, provides many opportunities to take breaks, rest, and drink water.
When hiking in Arizona in the summer you have to be careful about which kind of hike you choose. Devil's Bridge in Sedona is a great choice for the average non-hiker. There are lots of places to stop for a rest and a lot of shady spots along the trail. Winding through this high desert terrain, you'll have little elevation gain until the very end. With the average hiking time to be 1-4 hours, this is an activity that can be planned for early morning or early evening for a cooler hike.
The Devil's Bridge in Sedona is the largest sandstone arch, formed by wind and weather erosion, located in the Coconino National Forest. This distinctive formation is a geologic wonder that should not be missed!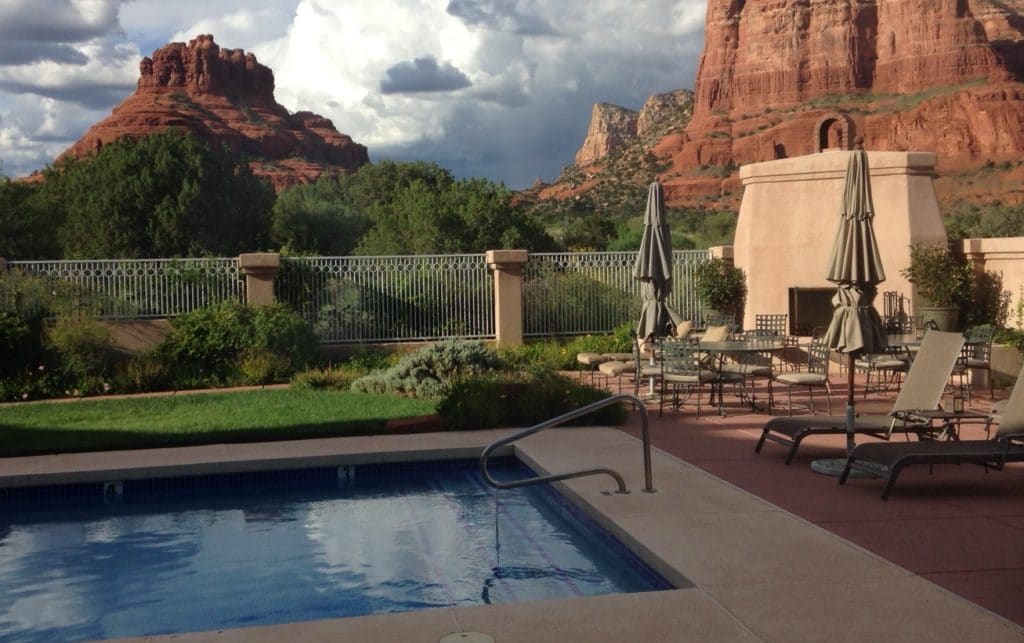 Stay at our Luxurious Bed and Breakfast this Summer
After hiking in the Sedona desert wouldn't it be nice to relax in ultimate comfort at the end of the day?! Rejuvenate your tired muscles in our energy-efficient solar heated pool. Perhaps just relaxing around the pool or courtyards of our Sedona Inn will help you unwind as you look out onto the spectacular views of red rock country.
Our guest rooms provide a tranquil and cozy place perhaps for an afternoon nap or curling up with a good book. Enjoy more views of the awe-inspiring scenery from the comfort of your room! If you are looking for the ultimate desert getaway this summer, book your stay with us today!
---