Wondering the Best Time to Visit Sedona?
Many guests ask us when is the best time to visit Sedona, and the simple answer is whenever you can get here. There's truly no "bad" time to visit Sedona, as it's a pretty wonderful destination year-round. Though it does get hot in the summer, Sedona's higher elevation keeps us cooler than cities like Phoenix, for example. In winter, you'll find cool temperatures (and even sometimes snow), but there are still plenty of reasons to visit then (no crowds!).
Even though we'd never discourage you from visiting Sedona, it's undeniable that the best time to visit Sedona is in the spring or fall. Both seasons are busier but full of color, and the temperatures are mild and perfect for outdoor adventures like hiking and biking. Spring brings with it wonderful wildflower blooms and by October and November, Sedona is bursting with fall color which makes for a lovely contrast with the already-striking red rocks.
Finding the best time to visit Sedona also depends on what you'd like to do once you're here. Whatever it is you decide on, though, make sure to include reservations at our #1-rated Sedona Bed and Breakfast.  Book your room today!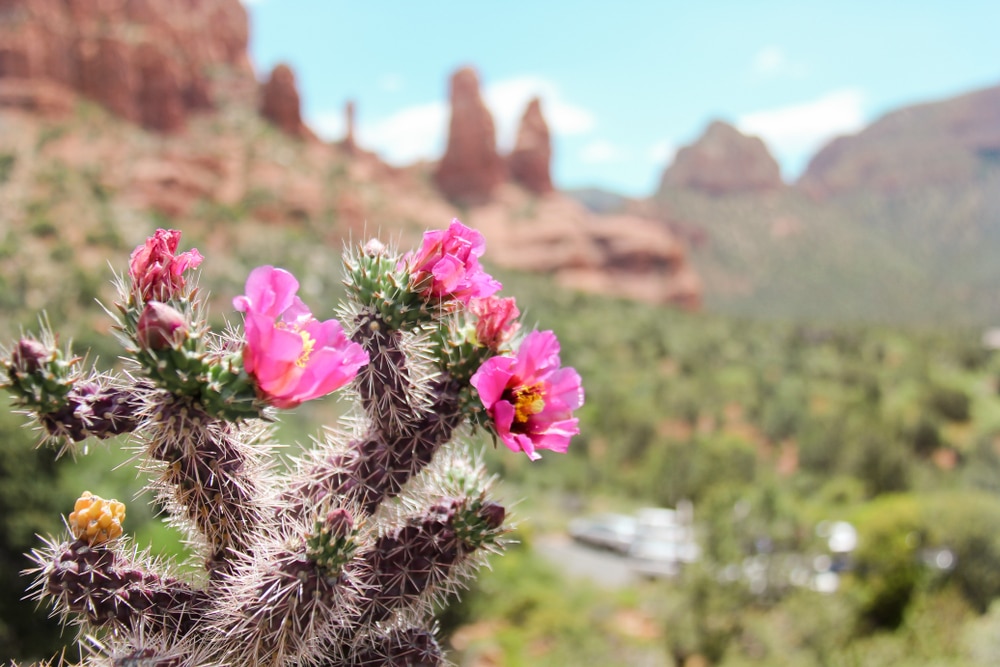 Find the Best Time to Visit Sedona
We think it's really important to customize a trip to what you want it to be – which is what makes it challenging to definitely answer questions about the best time to visit Sedona. The spring season, between March and May, is excellent for outdoor enthusiasts who are ready to get back outside after a long winter indoors. It may be a busy time in Sedona, but it's a beautiful time of year to be here.
Spring is the best time to visit Sedona if you like to spot wildflowers. The vibrant pinks of cactus blooms set in contrast to the variable shades of Red Rock are stunning – and excellent fodder for Instagram pictures. Speaking of snapping those perfect photos for Instagram, here's a quick list of some of our favorite Instagrammable locations in Sedona.
Fall is a special season in Sedona, too, with another few months of perfect weather for outdoor pursuits.  Fall is also a little less crowded in the Sedona area and there are fewer families in town and on the trails thanks to busy school and sports schedules at this time of year. Fall might just be the best time to visit Sedona, especially if you consider the leaf-peeping opportunities you can enjoy here.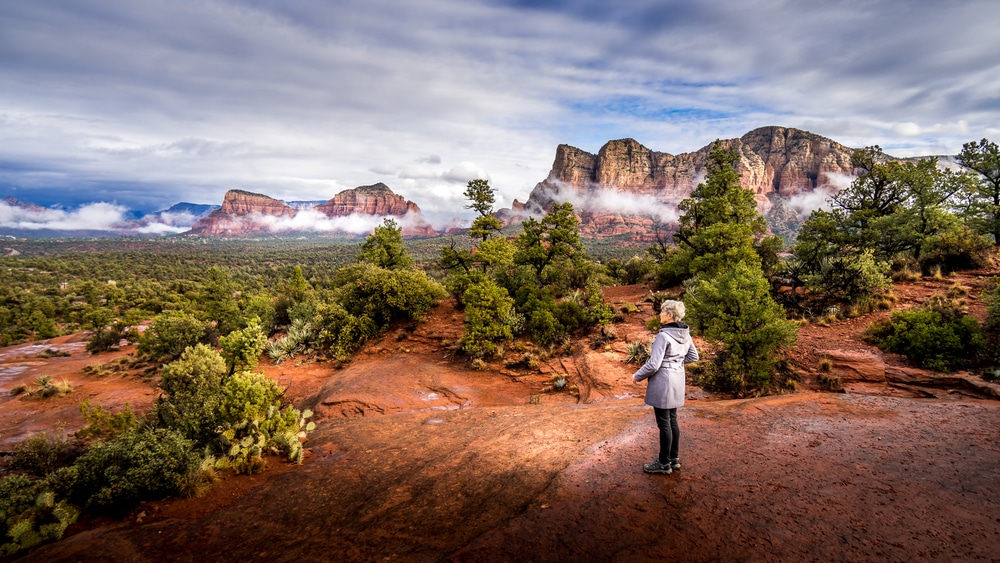 Best Things to do in Sedona
Spring, summer, fall, or winter – whenever you decide is the best time to visit Sedona for YOU – we'd love to welcome you with open arms at the #1 place to stay in Sedona, the Canyon Villa Bed and Breakfast.  Our luxury Sedona Bed and Breakfast overlooks some of the best scenery in the area and offers the perfect jumping place to enjoy the best of Sedona.
Speaking of enjoying the best of Sedona, there's no shortage of great things to do in Sedona, including hiking, biking, wine tasting, day trips to places like the Grand Canyon, and so much more. Here's a list of our top 10 things to do in Sedona:
Head to Slide Rock State Park, named one of "America's 10 best State Parks," and take a hike to a natural water slide.
The city of Sedona is known for the booming art scene, going back to 1931 when artists started moving to the area captivated by the surrounding beauty. Check out local art at Sedona's Gallery Row, home to 50+ galleries.
Enjoy some stargazing in Sedona's dark desert skies. Companies such as Sedona Stargazing provide tours led by experienced astronomers.
Do some shopping in Sedona, including at the famed Tlaquepaque Arts and Crafts Village.
Take a jeep tour, visit the Grand Canyon, or take one of the other tours offering by our friends at Southwest Outside Adventures.
Playing a round of golf with the Red Rocks as a backdrop. There are a number of great Sedona golf courses to explore.
Enjoy wine tasting throughout the Verde Valley. There are many small-batch wineries along Oak Creek and individual tasting rooms in Sedona.
Taking in some cultural history of Sedona at the Palatki and Honanki Heritage sites, which offer a glimpse into the history of the Pueblo ancestors of the modern-day Hopi.
Why not see the amazing springtime desert landscape by air? Taking a helicopter tour or hot air balloon trip over the beautiful red rock landscapes of Sedona. It's easily one of the most beautiful things to do in Sedona.
If you are looking to slow way down while also getting out and exploring, consider taking a horseback ride through the red rock country and the Verde Valley. There are lots of ranches and tour companies to pick from.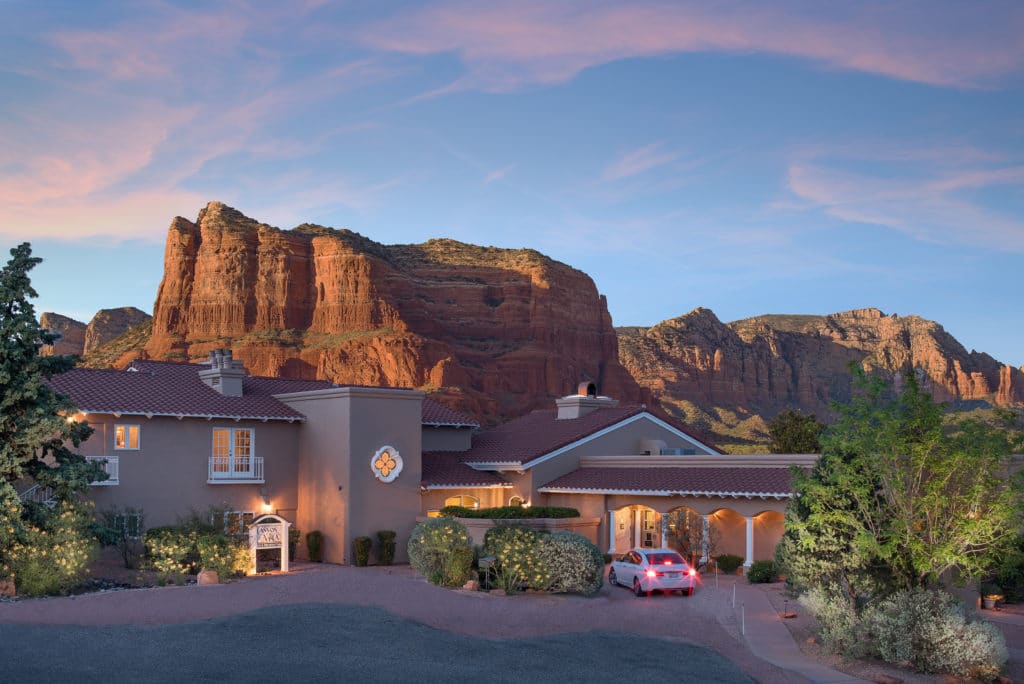 The #1 Best Place to Stay in Sedona
Though there isn't a definite answer to the best time to visit Sedona, there is a definitive answer when it comes to the best place to stay in Sedona, and it's at our #1 rated Sedona Bed and Breakfast. There are many things that make our Inn one of the best places to stay in Sedona, but it starts with the exceptional hospitality and service you'll enjoy while staying here.
From the moment you first arrive at our Sedona Bed and Breakfast and take in the awe-inspiring views of the red rocks situated directly behind us, you'll see why so many others agree that we offer the best place to stay in Sedona. Red Rock views like these will be enjoyed from just about every corner of our Bed and Breakfast, including your private guest room and our seasonal pool.
A stay at our Sedona Bed and Breakfast also includes a delicious breakfast each morning of your stay. Our breakfasts are the perfect fuel for whatever adventure lies ahead. It's time to start planning! Reserve your space at the #1-rated best place to stay in Sedona today!
---