The Best Place to Stay in Sedona
Are you looking for one of the best places to stay in Sedona? A getaway to Arizona is simply a must, especially this time of year. You can take advantage of all the breathtaking landscapes that Arizona has to offer, with the added benefit of less heat than you would typically find during the summer months. The average temperatures this time of year trend in the mid-to-high '50s making your stay especially pleasant for any outdoor excursions.
January is the perfect time to unwind at Canyon Villa Bed and Breakfast, one of the best places to stay in Sedona, let alone the state of Arizona. Our luxurious Bed and Breakfast will, without a doubt, provide all of the comfort and amenities you are looking for. At our Sedona Bed and Breakfast, we look forward to imparting 5-star service and an experience you will not forget. That being said, any time of year is perfect for staying with us.
Are you ready to see what makes us one of the best places to stay in Sedona? Book your stay with us today!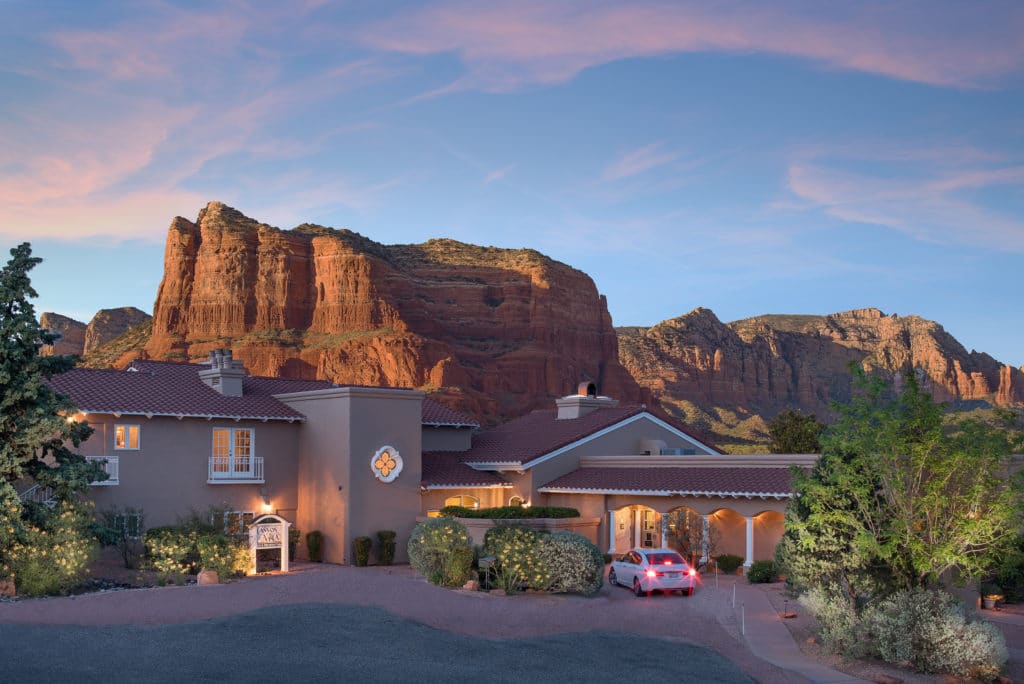 We're One of the Best Places to Stay in Sedona
When you vacation at our stunning Bed and Breakfast, you will quickly realize that you have found one of the best places to stay in Sedona. We have high expectations of providing you with the best service possible.
Our Bed and Breakfast will provide the comfortable night's sleep our guests need to be their best for their excursions. We also know that our guests require a delicious meal before they head out for their day of adventure. Let us share the top 5 reasons to stay with us!
Guest Rooms-We have an abundance of luxurious guest rooms to choose from. Many of our rooms feature cozy fireplaces, King-sized beds, and spectacular views of the Red Rock from your private room. Not only do some of our rooms capture the natural beauty of the Red Rock, but you may enjoy the view from a second-story balcony, making our Inn one of the best places to stay in Sedona if you want to enjoy exceptional views.
Outdoor pool and courtyard– Another reason our Bed and Breakfast is one of the best places to stay in Sedona is our outdoor pool and courtyard, which are most commonly enjoyed from mid-April through mid-October.
Breakfast– If you're going to stay at one of the best places to stay in Sedona, then you should expect one of the bests breakfasts, too! Our breakfasts are sensational and feature a broad range of fresh, homemade dishes daily. It's the perfect fuel for your adventure ahead.
Customized Bed and Breakfast– Another unique and extraordinary feature of our Bed and Breakfast is that we were custom built to best suit the needs of our guests. Our space allows for nearly all of our guest rooms to view the Red Rock and allows for seating of all guests comfortably for breakfast. Our Bed and Breakfast allows for privacy as well, making your experience uniquely yours.
Lavish amenities-Not only are you able to enjoy the spectacular views of Red Rock from our Bed and Breakfast, start your day off right with a lovely breakfast or lounge by the pool, but there is so much more we offer our guests. Our guests have access to a broad range of high-end amenities, including free Wi-Fi, luxury linens, customized toiletries, not to mention common spaces and so much more. Is there any wonder the Canyon Villa Bed and Breakfast rates as one of the best places to stay in Sedona?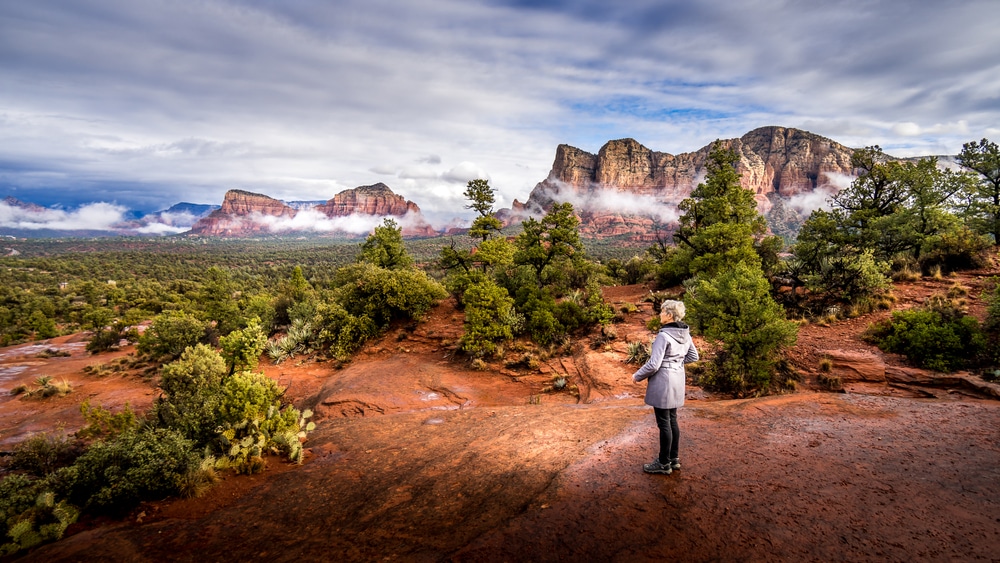 Things to do in Sedona
Now that we've covered one of the best places to stay in Sedona let's talk about what you're going to do once you're here! There are so many great things to do in Sedona, and it's no wonder this place is a bucket list location for many people. Whether you want to spend your time outdoor adventuring or exploring engaging cultural activities, you'll be anything but bored while here.
Spend a relaxing few days at one of the best places to stay in Sedona, Canyon Villa Bed and Breakfast, and enjoy these incredible things to do.
Get outside for some hiking. It's the #1 rated thing to do in Sedona, and for a good reason! Try hiking Airport Mesa or the Courthouse Butte Loop right behind our Inn.
Visit Slide Rock State Park, one of "America's ten best State Parks."
Browse the art galleries on Gallery Row, where you'll find 50 galleries centered on a mile-long stretch of highway 179. There are also many local museums and monthly art shows to catch.
When was the last time you went outside on a clear night and looked up at the stars? With minimal pollution, high, open altitude, and dry conditions, Sedona offers some of the best stargazing in the U.S.
Take advantage of the excellent weather by browsing the shops and boutiques around town. Uptown Sedona offers shops with jewelry, gems, and minerals, as well as apparel and accessories. Not to be missed is the Tlaquepaque Arts and Crafts Village.
There is a reason why Sedona is known for Jeep tours! This is definitely one of the top things to do in Sedona. There are many providers to choose from, but our favorite is Southwest Outside Adventures.
Playing a round of golf with the Red Rocks as a backdrop is a stellar way to spend your time in Sedona!
Relaxing with a glass of wine in the Verde Valley is a great way to unwind while in Sedona.
Appreciate these desert landscapes by air with a helicopter tour. If you are looking for something a little more serene, a hot air balloon ride may be what you're looking for.
This is just the tip of the iceberg for great things to do in Sedona. Elevate your experience for your next getaway, and book a room at the Canyon Villa Inn, one of the best places to stay in Sedona!
---