Hiking and More at Airport Mesa in Sedona
Airport Mesa in Sedona is a unique and mysterious place that is a must-see when visiting this Arizona town! While Sedona offers many stunning locations to hike to and experience, people flock to Airport Mesa for many different reasons. You can hike the loop to get exercise and for stunning views of one of the most scenic trails in the area. Airport Mesa also holds a special significance in that it is one of 4 Vortex sites in Sedona. This opens up a whole world of reasons why people are drawn to this place. Its convenient location just off of Airport Road in Sedona also lends to its appeal.
While you explore all the ways to experience Airport Mesa, let our Sedona bed and breakfast be your luxurious getaway in the desert!  Our award-winning inn can be your ultimate escape. Whether you lounge in our large common areas, hang out in the courtyards and pool area or retreat to your cozy and comfortable guest room you'll find yourself unwinding as the stress melts away and you look out over the iconic red rock formations of Bell Rock And Courthouse Butte from our accommodations. If you are ready for the perfect place that is full of luxury and comfort, book your stay with us today!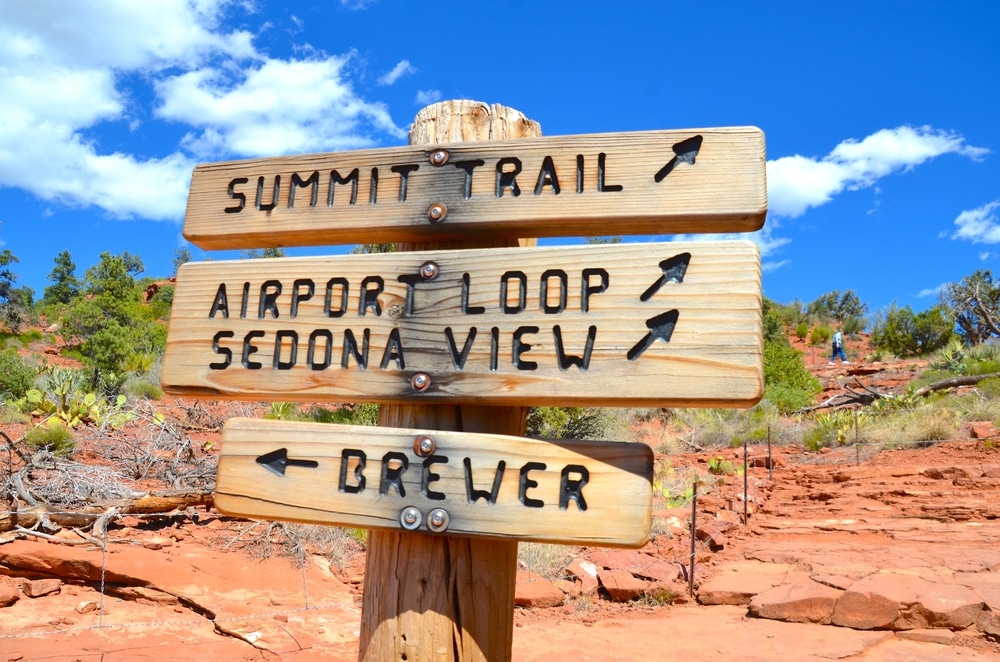 Hiking and More at Airport Mesa
There are many hikes and beautiful things to see when visiting Sedona Arizona. From Bell Rock to cathedral Rock to Devil's Bridge there is no shortage of incredible places to experience here. But one place, Airport Mesa, holds special meaning and significance and offers more than just a beautiful hike. There are many ways to get the most out of your time when you visit Airport Mesa. Here are 5 ways to experience this place to its fullest.
Most people come to Airport Mesa for the stunning views when hiking the Loop Trail. This 3.2-mile loop is a moderate rocky trail where you can hike, run, and mountain bike. The trail is centrally located and so is a fantastic way to see panoramic views as you hike and is a great way to see Sedona. Table Top is a spur trail that goes half-mile one way up a finger of land and ends at a point with breathtaking views.
The Overlook Trail is a short path that leads to a mini-mesa, which is the vortex site. This trail connects up to the bigger loop trail.
Along with hiking Airport Mesa is a great spot to catch a sunrise or a sunset. The light here reflects off of the red rock landscape and creates a jaw-dropping place to watch the light change. Bring a picnic for a romantic night out or head up for sunrise before the crowds form. The convenient location makes this an easy place to get to.
Airport Mesa is one of four vortexes in the Sedona area. These vortexes have long been thought of as sacred places where swirling centers of energy are conducive to healing. Many say they walk away from time spent here feeling inspired, uplifted, and recharged. Try it out for yourself when you visit Airport Mesa!
Because of the power felt at Airport Mesa, it is also a popular spot for many to meditate or do yoga. You may see some people here trying to tap into the energy in these ways. Head out in the morning for sunrise and do some stretches to get your day started out right.  Back To Earth Sedona offers meditation, yoga, and red rock reiki tours to help you get grounded, give you tools to access the vortices, and feel at peace.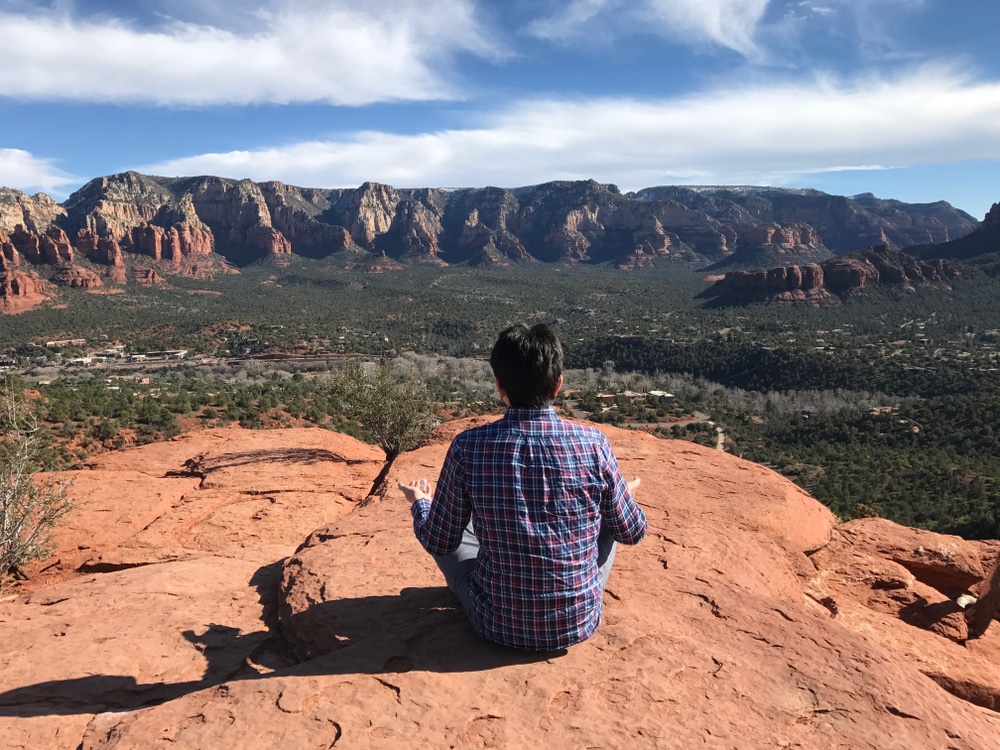 The Best Sedona Lodging
Let our luxurious accommodations be your perfect desert escape this season! At the end of a day of exploration, you'll have peace of mind knowing that you will be returning to the quiet, cozy, and comfortable lodging at our Sedona Inn. Our casual yet elegant ambiance is seen and felt throughout our bed and breakfast. You can retreat to your guest room and relax with amenities like plush bedding and deluxe linens, lounging robes, outdoor seating, and incredible views of the red rocks right out your window.
All guests are treated to a hearty breakfast featuring our signature cinnamon rolls that are baked fresh every day of the week. Hang out around our pool and courtyards to soak up the sun and the views of Bell Rock and Courthouse Butte. This oasis in the desert is awaiting your arrival! If you are ready for the ultimate getaway to Sedona, book your stay with us today!
---