7 Spectacular Hikes in Sedona to do this Spring
Going for hikes in Sedona is a relaxing way to get away from the hustle and bustle of life.  Springtime in Northern Arizona is a particularly magical time of year as the vibrant colors of flowers start to come out, and average temperatures range from the mid 60s to low 80s. This refreshing weather is perfect for getting out and enjoying a hike in the red rock country.
Canyon Villa Bed and Breakfast is the ideal spot to stay as you explore this unique part of Arizona. Located just outside of Sedona, in the Village of Oak Creek, our Bed and Breakfast is nestled among towering red rocks and is in close proximity to jaw-dropping views. Our luxurious lodging will provide a place to rejuvenate after going on hikes in Sedona and exploring sandstone cliffs, caves or streams. Book your room today!
7 Day Hikes in Sedona Red Rock Country this Spring
If you are a casual hiker or prefer to put in many miles, the Red Rocks of Sedona offer unlimited hiking opportunities this spring.  Whether you want to see sandstone rock formations, explore cliffside caves, or cool off next to a stream, the area in and around Sedona has got you covered. Be sure to stop by the Red Rock Visitor's Center for information on specific trails or areas that you know you want to visit.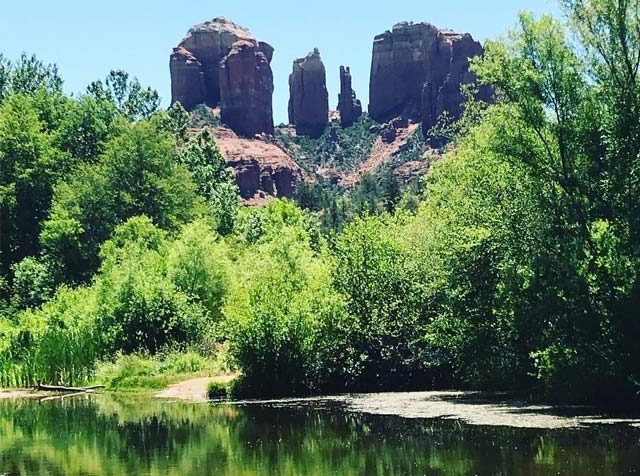 Here are 7 hikes in Sedona to consider during your stay at Canyon Villa Bed and Breakfast.
Slide Rock State Park, which is just 5 miles north of Sedona, has been named one of America's 10 best state parks. This popular recreation site features The Slide Rock Route Trail, which is a moderate 0.3-mile primitive trail that leads to the Slide Rock swim area along Oak Creek that includes a natural water slide that many visitors come to see. This area also has the Pendley Homestead trail for those history buffs out there. This is an easy 0.25-mile paved trail that travels through a historic homestead with original apple orchards. You'll get amazing views of Oak Creek's canyon walls on this walk.
Cathedral Rock, in the Red Rock State Park area,  is a moderate 1.4 mile out and back trail. With some climbing on hands and knees, you'll be rewarded with classic views of the red rock region as well as seeing red rock pillars that dot the landscape.
Devil's Bridge is one of the best places to catch both a sunrise and a sunset. This popular trail is a moderate 4.2 mile out and back that is highly accessible. If you hike this prepare to get a huge reward for little work. You'll reach the largest sandstone arch in the area while getting spectacular views of Sedona from the top. Try this one out in the morning when there are fewer people so as to have this magical spot all to yourself.
Courthouse Butte Loop is just adjacent to our Bed and Breakfast if you should want a closer option. This moderate 3.9-mile loop trail features diverse scenery with glorious views around Courthouse Rock.
Just 13 miles north of Sedona is the West Fork Hiking Trail. This scenic 7.2 mile out and back trail is a good option if you want a cooler hike along a river. This easy-going walk crosses a stream several times so be sure to wear waterproof boots/shoes and bring along your hiking poles.
The Birthing Cave is a unique, easy, 2 miles out and back trail that will lead you up and into the base of a cave. From here, turn around and check out the picturesque views of the Sedona Valley below. Start at Long Canyon Trailhead No. 122 for this adventure.
Red Rock Crossing, via the Baldwin Trailhead, is a 0.2 mile out and back easy hike with zero elevation gain. Here you'll find river access, unobstructed views of Cathedral Rock, and connections to longer Sedona trails. This spot can be busy due to it being the best sunset hikes in Sedona.
From easy to moderate to difficult/longer hikes, the Sedona area does not disappoint. There are some things to remember about hikes in Sedona in the springtime so as to stay safe and healthy. Make sure you bring plenty of water, wear sun protection, bring layers for the cooler nights, and bring along a headlamp or flashlight if you are trying to catch the amazing sunrises and/or sunsets.
Try to educate yourself about the wildlife in the area that may present a hazard such as rattlesnakes, scorpions, and bees. Also, remember that Sedona sits at 4,350 feet above sea level so you may notice that you may need to take more frequent breaks along your hike. Just more time to enjoy the incredible views!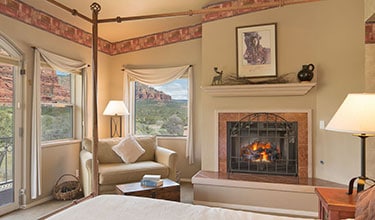 Rejuvenate at our Luxurious Bed and Breakfast
After a day of taking in world-class views and hiking around in the spring sunshine, you'll want to rest your tired muscles at Canyon Villa Bed and Breakfast Inn of Sedona. Relax in one of many private guest rooms that are set up for your ultimate comfort. Most rooms have direct views of the surrounding red rocks just outside our door.
Each room features outdoor seating if you should prefer to drink in the views from the comfort of your room. Fuel up your hiking day with a 3-course gourmet breakfast and then take a dip in our pool to cool off tired muscles. If you are looking for the ideal spring getaway book your room today!
---