10 Romantic Things to do in Sedona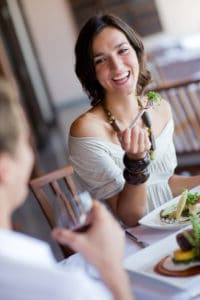 If you're looking for the perfect romantic getaway destination, look no further than our Sedona Bed and Breakfast. Though seeing the beautiful red rocks is one of the most romantic things to do in Sedona, and is a once in a lifetime experience, it's not the only reason to come stay with us. Our stunning location and exceptional hospitality are worth the trip, and will set the perfect stage for romance. Let us take care of the little things, so you can focus on nothing but enjoying your time together.
The Canyon Villa Bed and Breakfast is located just outside Sedona, overlooking the stunning Bell Rock and Courthouse Butte. Sedona is only an hour from Flagstaff and just over 2 hours from Phoenix. It's a close enough destination to get away for the weekend, but it feels as though it's miles away from the hustle and bustle of today's modern cities.
In Sedona, you'll find plenty of opportunities to get outside and explore the beautiful red rocks that have made us famous, but you'll also find a town filled with charm and character. You'll also enjoy plenty of high-quality amenities, such as delicious restaurants, as well as plenty of other romantic things to do, all in one great destination. Come see what makes us special. Book a room at our Sedona Bed and Breakfast today!
The Top Romantic Things to do in Sedona
It really goes without saying that you should spend ample time exploring Sedona while visiting our romantic Bed and Breakfast. Even if you're just here for a little r&r, it won't take you long to see that Sedona is a true destination not just for adventure enthusiasts, but those seeking cultural experiences as well.  With a number of museums, a world-class theater, plenty of restaurants, and a variety of great nightlife venues to enjoy, there' no shortage of ways to spend your days when you visit us in Sedona this winter.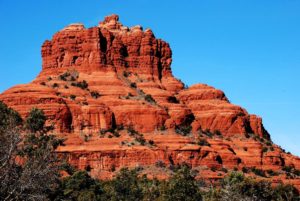 If you're looking for ways to heat up the romance, here are 10 of our favorite romantic things to do in Sedona:
Go wine tasting along the Verde Valley Wine Trail.
Enjoy a romantic dinner out at one of our favorite restaurants, such as Mariposa, Cucina Rustica, J Wine Bistro, or Elote.
Take a hike into Sedona's scenic red rocks. Favorites include the Courthouse Butte Loop and Slim Shady Trail, both adjacent to Canyon Villa, the West Fork Trail, Doe Mountain, and Fay Canyon.
Go shopping for one-of-a-kind art pieces at the Tlaquepaque Arts and Crafts Village, where you'll wander through cobble-stoned walkways and vine-covered stucco walls.
Head out after dark and enjoy the night skies, lit up only by romantic starlight. You can even take an astronomy tour in Sedona.
Indulge with each other, and get a pampering spa service from a local spa. We're happy to give you recommendations and help you schedule services.
Take a breathtakingly beautiful drive through Oak Creek Canyon.
Soar high above these dramatic red rock formations in a hot air balloon. There are few things more romantic, and we're happy to help you arrange a flight with our favorite providers.
Take a memorable ride on the Verde Canyon Railroad. It's beautiful at any time, but taking the night train is a special experience that includes a mesmerizing sunset and starry night skies. Splurge on a first-class ticket, and you can enjoy the ride at an intimate table for two in front of a picture window.
You don't have to go far to enjoy some romance in Sedona. You don't have to do much more than sitting on our patio with a glass of wine, soaking in the world-class views in our backyard.
Plan Now for Future Visits to Sedona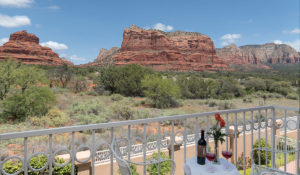 While these fall and winter months are a great time to plan a romantic getaway to our Sedona Bed and Breakfast, it's also a great time to start planning ahead for future visits. Each visit to Sedona is certainly unique, with a delightful array of things to do and see. We know one trip through this incredible area and you'll be hooked, wanting to come back time and time again. Each time you do, our romantic Bed and Breakfast will be here waiting to welcome you back into our comfortable accommodations.
There's no bad time to visit Sedona, though the winter and spring months are more popular. With only 11 guest rooms to offer and an unbeatable location, we certainly are busy during those peak seasons. Whether you want to celebrate special occasions with us or just come for a few restful days at our comfortable accommodations, now is a great time to plan and book those rooms for future travels. Book your rooms at our luxury Sedona Bed and Breakfast today!
---