10 Instagram Worthy Destinations in Sedona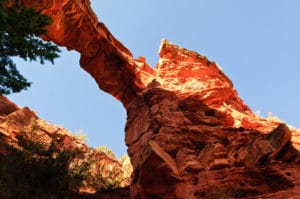 Sedona is a truly breathtaking place to visit, no matter the time of year. It was, after all, listed as one of USA Weekend's "Most Beautiful Places in America." The soaring red rocks and dramatic formations carved out over centuries by mother nature are inspiring, to say the least. These red rocks also happen to be incredibly photogenic and thus is an incredibly popular destination for both photographers and adventurers.  Spend a day hiking the hills of Sedona, and enjoy the incredible interplay of light throughout the day. Book a room at our luxury Sedona Bed and Breakfast today, and come search for that perfect Instagram worthy shot.
Take Instagram Worthy Photos in Sedona
Travel just about anywhere these days, and you'll see people with their cameras (phones) out trying to take the perfect picture. Landscape and nature photos, in particular, and very popular and trending on Instagram right now. And, if we're being honest, we all love to capture that perfect shot while on vacation. The red rocks of Sedona lend themselves well to being photographed.  Head to one of these 10 places in Sedona to capture some of the best Instagram photos around:
Take an artsy photo in front of Bell Rock. It's easily accessed via the Bell Rock Trail.
Snap a photo of the Reflection Pools, with the towering majesty of Cathedral Rock behind you. The reflection pools are a photographer favorite and are also renowned for their healing energy.
Skip the reflection pools and head up to Cathedral Rock itself.  It provides a stunning backdrop for an Instagram post.
Get to those really rugged photo destinations by taking a tour with Southwest Outside Adventures.
Make it look like you're alone in paradise on Devil's bridge, one of the most popular Instagram photos in Sedona. You won't really be alone, though. It's an incredibly popular place!
Get a photo of you sliding down slide rock, which also happens to be a great way to cool off on a hot Sedona day.
Visit the Chapel of Holy Cross, and take a picture of this incredible building built into the red rocks.
Airport Mesa at sunset is a photographer's dream. Get there early, set up your shot, and wait for the desert magic.
Capture photos at Chimney Rock, easily accessed via a 2-mile hike.
Don't forget to snap a photo from our pool, right here at our Sedona Bed and Breakfast. Bell Rock and Courthouse Butte will be towering behind you, creating the perfect backdrop for your Instagram photo.
You're sure to pick up some followers after taking any of these Instagram worthy photos, but more importantly, you'll have some amazing memories from your time spent in the red rocks of Sedona. Come visit us this summer.  Book your room at the Canyon Villa Bed and Breakfast today.
---