Some Unique Shopping Areas in Sedona
Here is but a sampling of popular Sedona shopping areas with unique art galleries, art studios, and restaurants. One could spend days browsing the buildings and courtyards of these areas, admiring the beautiful architecture, gushing fountains, and even flowing streams.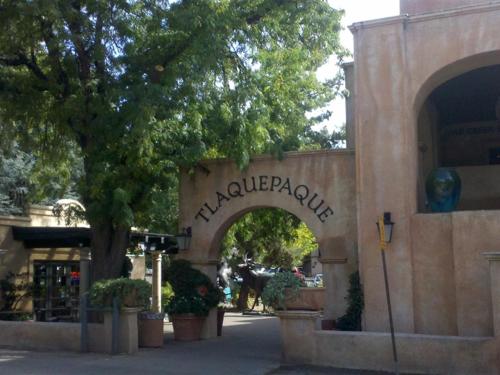 Tlaquepaque Arts and Crafts Village
A Sedona landmark with exceptional galleries, shops, and restaurants.
Tlaquepaque, of Arizona, is an arts and crafts shopping location unlike any other in the Southwest: it was made in the 1970s but was specially built to reflect the style and traditions of Spanish Colonial architecture hundreds of years old.
This environment, as well as being a stimulating experience for the senses and a great destination for shopping, is conducive to the creative passions of the artists who work and run galleries there. Among the sycamore trees which the buildings were organically shaped around, one can find galleries for photography, paintings, rugs, and other items. Individual stores are focused on different themes—from mythological to American Indian spiritual—so there is something to be found for everybody who looks.
Restaurants are also located in Tlaquepaque, AZ where the Mexican atmosphere adds to the pleasure of eating Mexican cuisine at El Rincon.  Other options include the Oak Creek Brewery and Grill, Secret Garden Café, How Sweet It Is chocolate shop and the Rene at Tlaquepaque, where food, wine, art, and music come together to create a special night you won't forget.
At just 6 miles from the hotel, Tlaquepaque is well worth a visit. As soon as you can, stop by to shop, eat or simply enjoy the beauty of the architecture.
Hillside Shops
Thirty specialty shops with multiple levels of galleries and dining located at 671 St Rt 179 in Sedona. Red Rock views with beautiful courtyards, patios, and an artistic river of water running from level to level.
Hozho Shops and Galleries
A collection of distinctive shops with prestigious galleries and folk art. Located in Gallery Row on scenic SR 179.
Shops at Hyatt Pinion Point
21 Shops, Galleries, and Restaurants with 3 beautiful courtyards and Red Rock views throughout.  Starbucks, the Wildflower Bread Company, are two popular stops for travelers while browsing the shops.
Uptown Sedona
The center of Sedona's tourist area, there is something for everyone here.  Restaurants, jeep tour companies, fudge shops, jewelry stores, Indian goods, art, and more.   Located on ST 89A between SR 179 and Oak Creek Canyon.  The Visitor's Center for the Sedona Chamber of Commerce is located here at well at Forest Rd.

A short list of Sedona Galleries - There are many more!